Fabulous You Metal Embossed Card
Fabulous You Metal Embossed Card.  I absolutely love this card  with the high heel shoe.  It is so girly and fun.  The Fabulous You stamp set is perfect for making cards for all those girl friends whether it is to wish them a Happy Birthday, Thinking of You, Get Better, and much more. Today I am going to teach you how to make this simple card and how to incorporate a touch of Craft Metal Sheets to make it an even more fabulous card.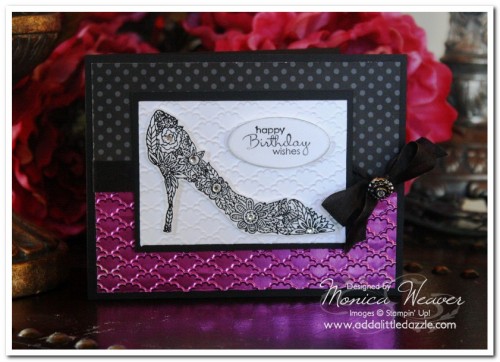 Today's post features a beautiful new stamp set "Fabulous You". The minute I saw this stamp set I knew I had to get it. This stamp set combined with the new Fancy Fan Impressions Folder and Add a Little Dazzle Metal Sheets is the perfect combination to a dazzling card. The metal sheet color shown above is Cosmic Pink and the color featured in the video is Perfectly Peacock.  These colors look fabulous in the card background but you can pretty much choose any color as all will beautifully coordinate with Black and White.  We have included a Fabulous You Metal Embossed Card pdf tutorial and instructional video. Make sure to download your tutorial by clicking on the red buton and our instructional video so you too can create the Fabulous You Metal Embossed Card.  This is a dazzling card you can make in a matter of minutes.