Dazzling Diva Challenge #50
Dazzling Diva Challenge #50.  It is November and we are excited to rev up our challenges as we get ready for the holiday season.  This week we are going to continue getting in the holiday spirit.  We have a beautiful picture to inspire and help get your creative juices flowing. Today, we are focusing on color and so you will see a variety of beautiful projects using traditional holiday colors. Enjoy the inspiration and participate in this week's challenge.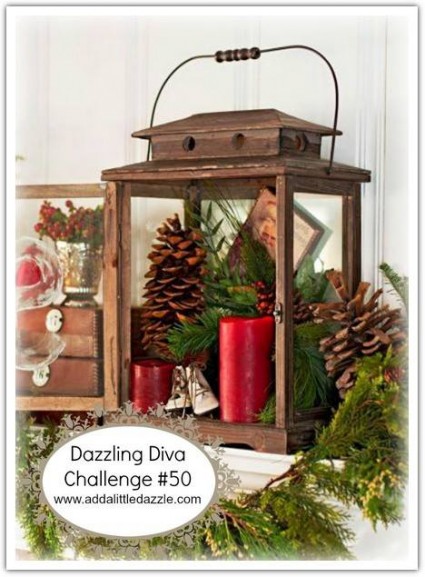 This week Dazzling Diva Challenge #50 is a Color Challenge or Anything Goes. I love the holiday season and all its beautiful colors. When I saw this picture, it definitely got me in the holiday spirit.  
So, for this week's challenge pull out one, two, three, or as many colors as you like from this photo and create a project.  There are so many beautiful color combinations you can come up with and I can't wait to see what you come up with.   You have until Tuesday, November 11th to enter.  The winner will receive a $15 Metal Sheet Gift Pack Prize.
I invite you to check out the Dazzling Diva Design Team's Cards. Scroll to the end of this post and you will see all the buttons. Click on each one and enjoy the design team's creations. Make sure to leave them some love with a comment. They love to hear from you.
Touch of Elegance
My favorite color is red and so I knew I wanted to share a project with you using that colors.  I wanted to keep this week's project simple and so I decided to share a different way of adding a touch of elegance to your holiday cards with Add a Little Dazzle Craft Metal Sheets.
I created this simple, yet beautiful and elegant envelope liner using Scarlet Red Craft Metal Sheets and the Envelope Liner Die (click on the link to purchase) from Stampin' Up!   After die cutting it, I took my craft metal sheet piece and embossed it with an Embossing Folder. Then, I attached 1/4″ Wide Scor-Tape to the flap of the liner and underneath the envelope crease of the liner and adhered it inside the envelope.
I cut the Scarlet Red Craft Metal Sheet to 4 1/2″ x 6″ so I was able to create four envelope liners from each 9″ x 12″ Add a Little Dazzle Craft Metal Sheet.  
You can also learn how to make the liner for any size of envelope by following some basic steps.  Learn how to do this in this POST!
Add Dazzle to Your Holiday Cards this Year
Dazzling Diva Challenge #49 Winner – Create with Joy
Enter Challenge #50 Below!