DIY Valentine's Day Inspiration: Chocolate Heart Box
DIY Valentine's Day Inspiration: Chocolate Heart Box. We are now less than a month away from Valentine's Day and candy heart boxes are everywhere. Although I love all the pretty colors and gifts, I always love a personalized gift even more. Today, I am going to share with you an easy way to turn the ordinary chocolate heart box into one that will get lots of OOHS and AAHS!!! If you are looking for an over-the-top project for an upcoming class or your own crafting, this is a show stopper.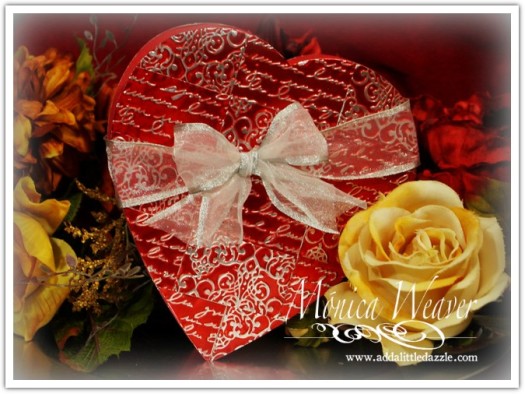 Metal Embossed Chocolate Heart Box
I LOVE altering items with Add a Little Dazzle Craft Metal Sheets. It adds such a touch of elegance to any project and have people wondering how you did it. I love to tell family and friends that I made it. It is so exciting for me!
Over the years, I created lots of different projects for Valentine's Day and I have to say this is one of my favorites. This fun technique allows you to cover a BIGGER PROJECT with craft metal sheets. It's fun because you can get creative with your embossing and add/coordinate as many patterns as you like. What's even more fun is that if you want to make this for a man you can find some really neat masculine patterns and create the perfect Chocolate Heart Box.
Today's project is perfect for all the special people in your life. Just change up the Add a Little Dazzle Metal Sheet Color and you are set to go. We have many beautiful colors from which to choose to create the perfect personalized look. Stay tuned as I share another great project idea with you using this same technique. It's really fun and easy and you will LOVE IT!
Check Out Our Special Bundle Packs and Fun Valentine's Day Dies and More HERE!
Shop Our Boutique HERE and Order Add a Little Dazzle Craft Metal Sheets!