Card Making Ideas: Are You Technique-ally Challenged?
Card Making Ideas: Are You Technique-ally Challenged?  Do you love seeing different card making ideas? Do you love seeing fun techniques used for making DIY Cards? Do you wonder if you can do it?  Join me for the next five days as I teach you different techniques and tips I used for creating this beautiful Easter Card.  You will love it!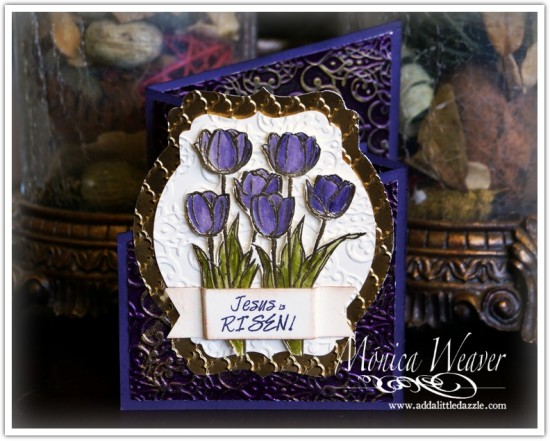 Technique-ally Challenged
I am technique-ally challenged.  How about you?  Personally, I love all the fun techniques I see out there, but sometimes I feel overwhelmed and intimidated by them. They look so time consuming and difficult to do.  I see beautiful card making ideas made by talented crafters and think there is no way I can do that. As a result, I shut down and go to my normal everyday card making ideas with no techniques.
This week's challenge at Dazzling Diva Challenge #20 was to create a card for Spring/Easter or Anything Goes VIEW HERE.  This was the perfect opportunity for me to try out a technique.  The funny thing is that once I got started I wondered why I held back from learning this technique as it is so easy.  Do you ever feel technique-ally challenged? 
Stuck in a Rut
For a few weeks, I have been feeling stuck in my card making ideas. I make the typical A2 card. One day I make it horizontal and then vertical and never move beyond that. Honestly, I have been bored and have wanted to spice it up.  
My dear friend Martha Lucia loves to challenge me to think outside the box.  She is always telling me to change it up and spice it up. Personally,  I don't like being pushed outside my comfort zone but then I surprise myself and love the end result.  The thing that surprises me the most is that it was never as difficult as I thought it would be.    
Now What?
I am going to help you get out of your rut and spice it up.  For the next 5-6 days I am going to walk you through the different tips and techniques I used for creating this Easter Card.  I will provide video tutorials and teach you how to add some dazzle to your card making ideas.  Today, I will start by teaching you the Masking Technique. This technique is easy, yet adds a beautiful effect to your DIY Cards.
Make sure to follow us on You Tube HERE so you don't miss any videos in this series. In addition, please share this on Facebook HERE,  Pinterest , and with all your friends. Just use the buttons below and share the love.
Make sure to also sign up for our FREE NEWSLETTER in the first box in the upper right hand corner of this blog.
Masking Technique Video Tutorial

Shop the Add a Little Dazzle Boutique

HERE!
 I entered this card into the following challenges: Simon Says Stamp Wednesday Challenge- Spring/Easter Treats, Crafty Ribbons Challenge #84- Flower Power,  Through the Craft Room  Door/Anything Goes, Word Art Wednesday/Challenge #127 Anything Goes, Avenue613/Sights, Sounds,Smells, Tastes of Spring/Anything Goes, 4 Crafty Girlz – Anything Goes,Papertake Weekly-Spring Has Sprung,  Cute Card Thursday-Easter, DL. ART THANKFUL THURSDAY #130 Easter,Divas by Design-Easter/Spring,