Thank You Card Ideas for Men
Thank You Card Ideas for Men. Have you ever needed thank you card ideas at the very last minute? If you are like me that has happened to you on more than one occasion. The worst part is you don't have the time and no masculine stamps on hand. Join me today as I teach you how to make the perfect card that will solve the problem of not having masculine cards on hand.
Card Ideas for Men
Whenever you ask a crafter what is the most difficult card to create, they always say masculine cards. Could it be the lack of masculine stamps, masculine designer series paper, and embellishments to name a few? Honestly, the crafting market doesn't have lots of stuff for men, but with some creativity you can come up with wonderful card ideas for all occasions.

Basic Items for a Masculine Card
Making a card for a man doesn't have to be difficult. In my opinion, one of the biggest things is to make a card that is age-appropriate for the recipient. Don't add bows, bling, or frilly items. Men's cards need texture without all the frills. Can you imagine having your husband give his masculine boss a thank you card with bows on it? Ugh!!!
You can still add the fish, boat, bowling ball, etc. but you need to add an adult masculine feel to it. Below I have created a list of some of the main items I always grab when creating a masculine card. This is the list I go to when trying to come up with Thank You Card Ideas and more for men.
Stamps or Digital Images
Embossing Folders
Metallic Embellishments
Tim Holtz Idea-Ology Embellishments
Add a Little Dazzle Craft Metal Sheets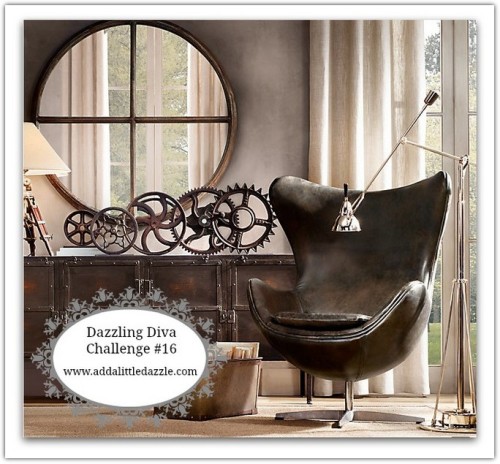 This week we are focusing on an Inspirational Photo in Dazzling Diva Challenge #16 VIEW HERE. I absolutely love this image and there are so many different card ideas you can come up with using this image.
I decided to focus on Thank You Card Ideas. I wanted to incorporate gears and some kind of technique on my card and so I went with the Faux Patina Technique. I used Dark Chocolate Add a Little Dazzle Craft Metal Sheets and Gelatos.
At the end of this post, I have a FREE Instructional Video and PDF Tutorial for you. This tutorial will give you step-by-step instructions along with measurements and a Supply List. Enjoy!
Need Ideas for Your Dazzling Diva Challenge #16 Submission?
When I look at this picture, there are a lot of different ideas that come to mind. Take a look at my list below and see which one inspires your creativity. Then, get busy creating and come post your dazzling creation in Dazzling Diva Challenge #16 HERE.
Faux Leather Technique

Eroded Metal Technique

Brown Color Palette

Circles

Light and Lamps

Screws and Hardware

Mirrors

Chairs

Gears

Silver Finish

Compass

Texture
It's really easy! I encourage you to share your card ideas. This week's winner will receive the card featured above in addition to an Add a Little Dazzle Prize Package.
Thank You Card Ideas for Men



Shop Our Boutique

HERE