Technique Diva
Technique Diva.   Today I would like to introduce Catherine, Technique Diva, at Dazzling Divas Challenge.  Catherine has a way of taking crafting techniques and incorporating them into beautiful pieces of art.    I was so excited when she accepted to be on the design team as she brings a very unique style in how she stamps. I am glad to have her on the Dazzling Divas Design Team and look forward to the projects and techniques she will share.  Learn more about Catherine in today's post.

Technique Diva
Catherine Pooler is the owner and founder of www.catherinepooler.com.  She has been teaching people how to rubber stamp and scrapbook for 10 years and is the author of Life Scraps…how to scrapbook your life through storytelling.
Catherine loves to try out all kinds of techniques and give her spin on them.  She loves to experiment with all kinds of products and is always up for a challenge.  She has been incorporating  Add a Little Dazzle Craft Metal Sheets in her projects.
Trendy Card
This weekend Catherine posted a Christmas Card using the very trendy Chevron Pattern.  As you can see this is a very easy card to mass produce and with a touch of Add a Little Dazzle Craft Metal Sheets you have an easy card for the holiday season.
Are you needing to mass produce cards for the holiday season?  If so, this card is one of the many you can create in a matter of minutes.  Take away the stress and enjoy getting your cards done quickly.   You still have time! 

Time to Play
The challenge is not only for us, but for YOU.  We want you to participate and give us your interpretation of the week's challenge.   Read the rules below and join the challenge. 
Make a card, layout or project inspired by the photo above. Use any product you want.

Use of Metal Sheets is encourag

ed but not mandatory.  Any participant using Add a Little Dazzle Metal Sheets will receive an additional entry into the weekly prize.

Post your creation on your personal blog or online gallery, then come back here and post it to the linky below.  Make sure you link up to the actual post and not your blog's home page.

Include a direct link to Add a Little Dazzle (specific challenge) in your blog post.
We only accept new projects. 

No back linking.

You can combine this challenge to as many others as you like.

One randomly chosen player will be chosen weekly to win a

PRIZE PACKAGE from the Add a Little Dazzle Store!

One person from among the month's winners will be chosen to be a

SPECIAL GUEST DESIGNER

for the following month.
Challenge will post each Wednesday at 9am and close on Tuesday at midnight!
How Do I Enter the Challenge?
Simply CLICK HERE to access the Dazzling Divas Challenge Post and enter by looking for this image all the way at the end of the post.  As you can see, we already have one submission.  Are you next?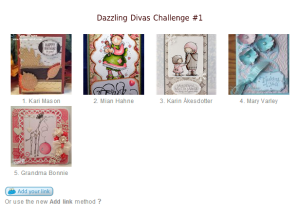 Leave Us a Comment and Say YES I will Enter the Challenge!