My Digital Studio: Snow Glass Candle Jar Tutorial
My Digital Studio: Snow Glass Candle Jar Tutorial will teach you how to turn an ordinary candle into a dazzling handmade gift.  This project is very easy to make using My Digital Studio and Add a Little Dazzle Transparency Adhesive  Sheets. This gift is dazzling and nobody will ever believe you made it as it looks so professional.  Keep reading for more details.  You are going to love this project!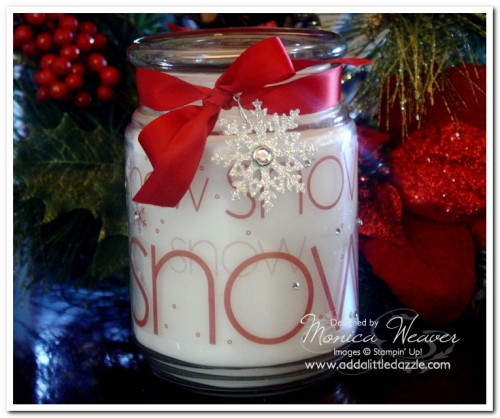 My Digital Studio: Snow Glass Candle Jar Tutorial is the perfect tutorial to learn how to create a candle jar that looks like something you bought in the store but for much less than what you would pay in an expensive store.  The image was created on My Digital Studio and was printed on Add a Little Dazzle Printable Transparency Adhesive Sheets.
Each pack comes with 10 sheets.  You can create 20 candle jars from one pack.  My Digital Studio is full of images such as the Snow Digital Images.  This allows you to create whatever candle you have in mind.  In My Digital Studio, I set the image to be colored in Real Red Ink.  To add a more festive look to the jar, I added Rhinestone Jewels in the center of the snowflakes and spread out some more around the jar.
The Real Red Satin Ribbon also added a perfect look as it brings in a touch of elegance accompanied with Silver Glitter Sheet Snowflakes which were created using the Northern Frost Decorative Strip and the amazing Big Shot.  I even added a Rhinestone Brad to the center for an added touch of bling and then hung it from the ribbon with a wine charm. What a perfect holiday gift!
There are some tricks to working with these sheets and color combinations that work best so that your image is visible.  I recommend using lighter colored backgrounds vs. dark colored backgrounds.  You can also use stamps to create your own transparency sheets with rubber stamps. That is the great thing about this product.  Not only can you use it for Digital Images but for stamped ones too.   I have included a step-by-step PDF tutorial to help you create this dazzling glass candle jar.