Petite Pairs Embossed Metal Masculine Card
Petite Pairs Embossed Metal Masculine Card is our featured card today. As a crafter, I have discovered that the most difficult cards to create is a masculine card.  No matter what level of crafter you are this is ALWAYS where we all get stumped. How do you create a masculine card using the products you have without giving it a feminine look?  Today at Add a Little Dazzle we are going to share another masculine card we created. This masculine card is quite easy to create and has a beautiful adult masculine feel to it.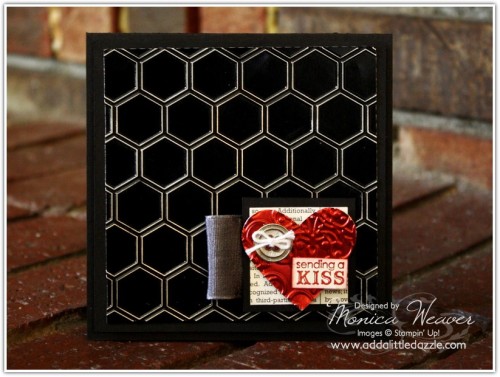 As I was creating masculine cards to share with you this week, I was trying to figure out how to create a masculine card with a heart but without it looking feminine. I didn't want frilly but I knew I wanted a heart. I went back and forth for a while and came up with this design using the Petite Pairs Stamp Set.
I really like this design because it has a masculine adult like feel with the heart, yet it isn't overpowering. I added the new Basic Silver Buttons for a touch of classy masculine and then I wanted to add some ribbon, BUT no bows.  After much thought, I decided to add the small piece of Basic Grey Ribbon found in the Stampin' Up! Spring Catalog.  If you want to make it a feminine card, switch out the Basic Gray Duo Tone Ribbon for lace and you have the perfect feminine card.  I guess you can say this masculine card is actually UNISEX.  Just change the ribbon and you have a feminine card.  It is simple but very elegant and with the Petite Pairs Stamp Set you won't go wrong.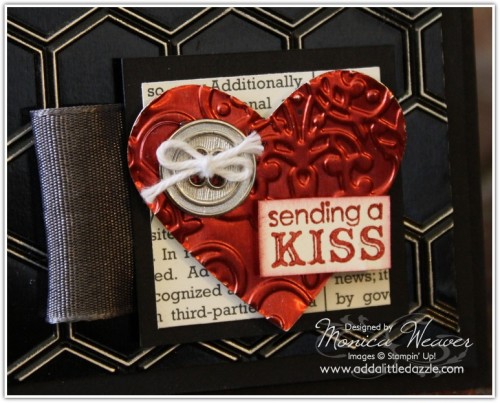 Honestly, I think that the main elements that made this card stand out was incorporating Add a Little Dazzle Craft Metal Sheets into the design. The Black Diamond Craft Metal Sheet background screams classy and embossing it with the Honeycomb Impressions Folder and then sanding the top layer really adds an impressive touch.  Then, adding the Scarlet Red Craft Metal Sheet heart added that punch of color without overpowering the card.
Incorporating Add a Little Dazzle Craft Metal Sheets into your crafting really makes your projects unique and takes it to the next level.  

CLICK HERE

to purchase Stampin' Up! product and

CLICK HERE

to Shop Our Boutique!