Make Your Own Metal Foil Tape Sheets
Make Your Own Metal Foil Tape Sheets. One of my favorite interior decorating shows is Design on a Dime.  I love that they take affordable design to the next level by dispelling the notion that a beautiful room and home decor items has to be expensive.  I love that Design on a Dime shares secret that makes any room in your house look like you spent a fortune. With that in mind, we decided to teach you how to Design on a Dime Add a Little Dazzle style.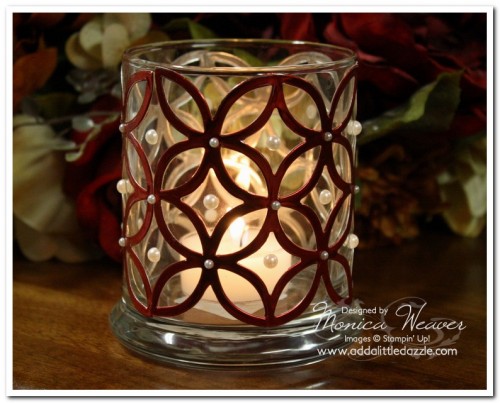 I am so excited to share with you how to Make Your Own Metal Foil Tape Sheets using Add a Little Dazzle Crafting Metal Sheets. Whether you are a beginner crafter or an advanced crafter this project will help build your confidence when working with Add a Little Dazzle Crafting Metal Sheets.  
In today's video, I will teach you how to create this beautiful candle holder while teaching you how to create your own Metal Foil Tape Sheets. Candles are great for decoration, for relaxation, and for establishing a mood. They help to create an ambiance and a general decor, and they offer extra lighting as well.  There are different things to keep in mind when decorating with candles. I will share some basic tips with you and making your own Metal Foil Tape Sheets will allow your candle holder to beautifully coordinate with your Home Decor. The Big Shot is an amazing tool and today you will learn one more way to use with the Lattice Die as you Design on a Dime.
Tips for Decorating With Candles
Choose candles that complement your Home Decor.

Place candles in clusters of three in various heights.

Use candles to decorate your tables.  Pillar and votive candles are good for accenting coffee or  end tables. Taper, tea light, votive, floating candles, and pillars are great for decorating a dining room or kitchen table.

Use candles to accent cabinets or countertops, mixing and matching them with other items that are used to decorate those areas.

Find inexpensive candle holders at Dollar Stores and alter them using crafting supplies, Big Shot, and Add a Little Dazzle Metal Sheet
CLICK HERE

to shop Our Boutique
Are You Ready to Take Your Crafting to the Next Level?
If so, join over 5,000 subscribers who receive my FREE NEWSLETTER with exclusive content and crafting tips twice a month and get a FREE COPY of my tutorial, How to Make Metal Embossed Candles. Just enter your name and email.