Add a Little Dazzle and Neat & Tangled Blog Hop-Day #4
Add a Little Dazzle and Neat & Tangled Blog Hop-Day #4. Welcome to Day 4 of this amazing blog hop.  This blog hop has been going by too fast and the projects have been amazing.  I have loved seeing how the designers have been using Neat & Tangled Stamps in completely different ways.  I am amazed at the projects everybody has come up with using Add a Little Dazzle Craft Metal Sheets.   Today we have more exciting projects for you and even a special something something so make sure to read carefully through today's post so you stay in the loop.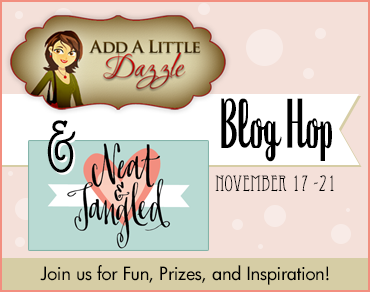 Today is Day #4 of the Add a Little Dazzle and Neat & Tangled Blog Hop.  All of us have been having so much fun and have loved sharing our projects with you.  Everybody has been working hard to think outside of the box to create inspirational projects for you.  
We hope you enjoy today's line up of projects and will be inspired to visit our stores at Neat & Tangled and Add a Little Dazzle Craft Metal Sheets. Check out our exclusive line of products we carry for all your crafting needs.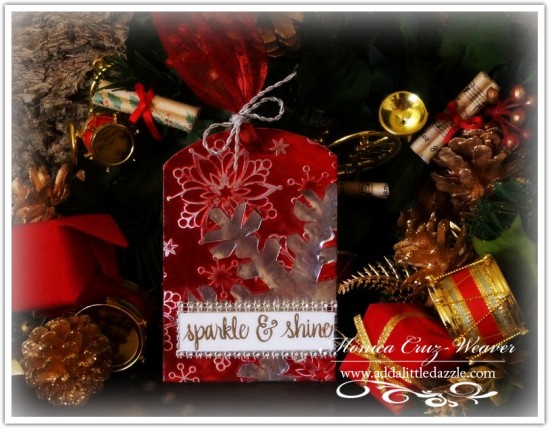 Silhouette Gift Tag
As I was playing around with my Silhouette yesterday, I decided I would make a gift tag using the Inlaid Die Technique from Dazzling Diva Challenge #52.   The fun part about this project was that I was able to play around with my Silhouette and size my gift tag just the way I wanted. I even added an inlaid snowflake into the tag using the aluminum side of the Scarlet Red Craft Metal Sheet.  
Once I finished designing my gift tag, I placed my metal sheet on the Cutting Mat, secured it with Washi Tape, went over with the brayer, and ran it through my Big Shot. I was amazed at how easy this was to do and it allowed me to created a metal embossed gift tag in less than 2 minutes.  
As you can see, I embossed and sanded the background of the tag and then placed adhesive along the back and attached it to the card stock. Then, I placed adhesive along the back of the snowflake and inlaid it into the gift tag. It was so easy!
Outside of the Box
When I originally chose the Sparkle and Shine Stamp Set  from Neat & Tangled, I had a completely different project in mind.  Then, Kate Capper, one of my design team members created a card that blew me away and my idea was gone.
I knew I wanted to focus on the holidays this week and so after looking over the words of the stamp set I knew I could pull it off on this tag. Then, I made a BIG MISTAKE right underneath the sentiment and needed to find a way to cover it up.
Adding the rhinestones was the perfect touch as it paired nicely with the sentiment and you can't see my mistake.  Sometimes with a little creativity you can cover up your mistakes and you don't have to start all over again. 🙂 
Would You Like to See More Cricut and Silhouette Projects?
Later today I will be sharing a special post featuring projects using the Cricut and Silhouette. Two of my design team members and I will be sharing our projects with you.  I would LOVE for you to join us!  I invite you to SUBSCRIBE HERE to my feed and you will receive and email as soon as the post goes live.  
In addition, I am releasing a TUTORIAL for the Hot Cocoa Dispenser shared this week.  Would you like to receive it for FREE?  Sign up for my 12 Weeks of Christmas Newsletter and receive this tutorial and many more for FREE.  Just click on the banner at the top and sign up. I even have an extra special offer for new subscribers. IT'S A SCREAMING DEAL!!!!
 
Be sure to visit each of the designers on this blog hop!
Neat & Tangled
Add a Little Dazzle <<—YOU ARE HERE!!
Mayuri
Kristen Foreman
Kate Capper
Cathy Parlitsis
Keren Baker 
Martha Lucia Gomez 
Prize Alert!!!
We have an awesome giveaway!  Enter for a chance to win 1 of 2 prize packs from both companies!  You have until Saturday, November 22nd midnight (MDT) to enter. The winners will be announced on both company blogs.
You must leave a comment on all blogs (including company blogs) for a chance to win 1 of 2 prize packs!

Special Bundle Pack!!!
Are you excited and want to try out Add a Little Dazzle Craft Metal Sheets? Order our Ultimate Sampler Pack today! Receive an EXCLUSIVE PDF TUTORIAL.  Order your Metal Sheets today!
 Limited Time Offer!