Make it Manly Online Class: Card 2
Make It Manly Online Class: Card 2  If you ask any papercrafter what the most difficult card to create is the resounding answer is masculine cards.  Honestly, there are not a lot of stamp sets out there to create the perfect masculine card.  Today, I would like to share a picture with you of the Make It Manly Online Class: Card 2.  This card gives you a small glimpse into what we will be offering you.  In the upcoming months, Add a Little Dazzle will be releasing our new ONLINE CLASS "Make it Manly ".  During this online class, you will learn how to create beautiful cards with a masculine, adult look to them.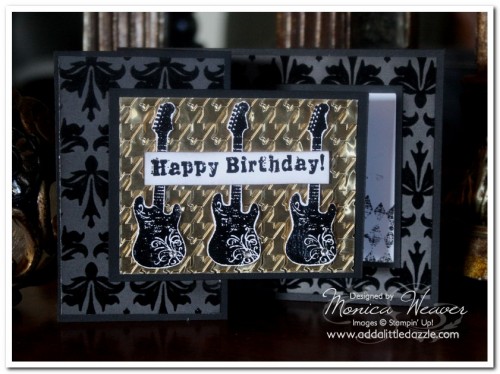 I am excited to launch this new ONLINE CLASS and so we have decided to showcase samples of the kind of masculine cards that will be featured during the "Make It Manly Online Class".  The cards we will be showcasing will wet your appetite and get you excited as we countdown to registration.  The cards featured during the preview are NOT the cards that will be featured in the online class. You will receive fresh new samples never seen with the Add a Little Dazzle style.  Make sure to follow us as we showcase beautiful masculine cards for all the men in your life.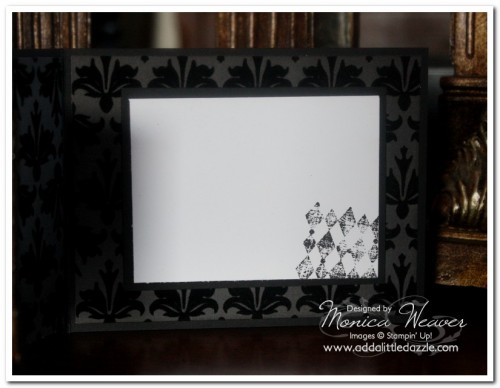 In today's video, I will teach you how to create the "Grunge Rock Metal Embossed Z-Fold Card" using the Mocha Morning Specialty Designer Series Paper (Item #122366).This beautiful card features the Grunge Rock Stamp Set (#120555) which has images that are perfect for a masculine card. 
I love the black flock in this paper and so I knew that the paper accompanied with Add a Little Dazzle Golden Glimmer Craft Metal Sheet would create the perfect look I had in mind for a masculine card. I heat embossed the stamped images to bring more of a dramatic effect and added three Rhinestone Jewels to add a small touch of bling.

 Shop Our Boutique

HERE!