Do You Love a Challenge?
Do You Love a Challenge?  I love challenges. Sometimes they push me further and other times they frustrate me.  Either way I like to take challenges and prove to myself I can do it.   Tell me I can't do it and I will prove you wrong.  Are you like me?  If so, keep reading and see the challenge I have for you.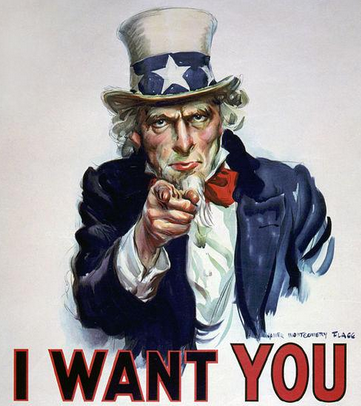 I Want You
Have you ever felt like it is time to further yourself and grow in your knowledge of something?  Lately, I have felt a need to really expand my crafting and grow in my knowledge of products and techniques out there.
As a result, I started the Dazzling Divas Challenge and brought in an amazing design team.  Each design team member has a very unique style and way of incorporating Add a Little Dazzle Metal Sheets.
The great news is that the challenge is not only for us. It is for YOU!  I want YOU to take part in this amazing challenge and enter for a chance to win our WEEKLY PRIZE PACKAGE and a chance to be a GUEST DESIGNER.

Time to Play
The challenge is not only for us, but for YOU.  We want you to participate and give us your interpretation of the week's challenge.   Read the rules below and join the challenge. 
Make a card, layout or project inspired by the photo above. Use any product you want.

Use of Metal Sheets is encouraged but not mandatory.  Any participant using Add a

Little Da

zzle Metal Sheets

 will receive an additional entry into the weekly prize.

Post your creation on your personal blog or online gallery, then come back here and post it to the linky below.  Make sure you link up to the actual post and not your blog's home page.

Include a direct link to

 Add a Little Dazzle (specific challenge) in your blog post.
We only accept new projects. 

No back linking.

You can combine this challenge to as many others as you like.

One randomly chosen player will be chosen weekly to win a PRIZE PACKAGE from the Add a Little Dazzle Store!
One person from among the month's winners will be chosen to be a SPECIAL GUEST DESIGNER for the following month.
Challenge will post each Wednesday at 9am and close on Tuesday at midnight!
How Do I Enter the Challenge?
Simply CLICK HERE to access the Dazzling Divas Challenge Post and enter by looking for this image all the way at the end of the post.  As you can see, we already have one submission.  Are you next?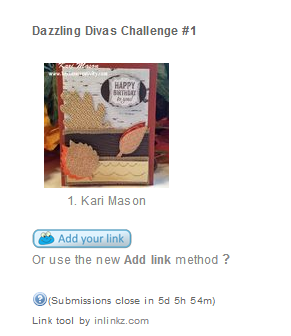 Leave Us a Comment and Say YES I will Enter the Challenge!