Altoid Tin Mini Scrapbook
Altoid Tin Mini Scrapbook. There are so many different projects you can create with an Altoid Tin and today we are going to showcase a beautiful mini scrapbook you can create with one. What's even better is that you can purchase a set of Altoid Tins here at Add a Little Dazzle without having the need to burn, sand, or prep the tin.  Add a Little Dazzle Altoid Tins are ready to alter.  Join us today as we share step-by-step instructions in creating this beautiful Altoid Tin Mini Scrapbook. We have even included a great photo tip you can easily incorporate into your Altoid Tin Mini Scrapbook.

Altoid Tins are very versatile to create numerous projects. Whether you are going for a party favor, tooth fairy box, medicine holder, mini scrapbook etc. you can't go wrong.  Today I want to share this beautiful mini scrapbook album I created using  an Add a Little Dazzle Altoid Tin and lots of beautiful Stampin' Up! products both current and retired.  
The designer series paper is the Everyday Enchantment Designer Series Paper that can be found in the Stampin' Up! Clearance Store. This was actually last year's Sale-a-Bration Designer Series Paper and it was one of my favorites. Great news is that you can still purchase to beautifully alter this altoid tin.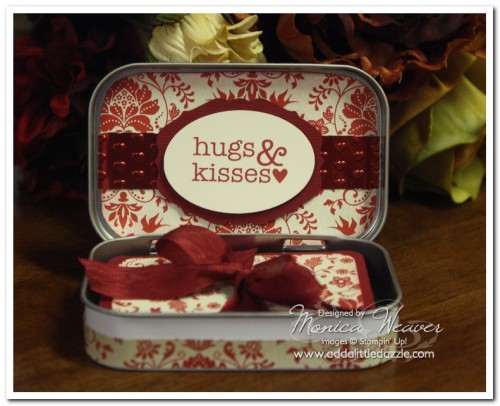 In addition, I used Cherry Cobbler Card Stock and Add a Little Dazzle Rustic Red Metal Sheets to create a beautifully coordinated piece. With just the right touches of color and pictures you can create a masterpiece.  As you can see, my pictures are sephia tone.  This is a great way to use a variety of pictures when they don't color coordinate with the Designer Series Paper.
Photo Tip: If you have a collection of pictures you want to use but it doesn't coordinate with the Designer Series Paper you are using, change your pictures to either Black and White or Sepia and you will have a uniform and professional look.
Make sure to download your FREE PDF TUTORIAL to learn how to create this masterpiece!

Purchase Altoid Tins and Metal Sheets
HERE
and Stampin' Up! products
HERE