How Do You Store Embossing Powder?
How Do You Store Embossing Powder? is our Question of the Week.  Have you ever tried to pour in the left over embossing powder into the small container it came in and ended up with a bigger mess? I love using it but the truth is it can get quite messy.   I was looking for a way to store them more efficiently and I am glad to report I found a way that works for me.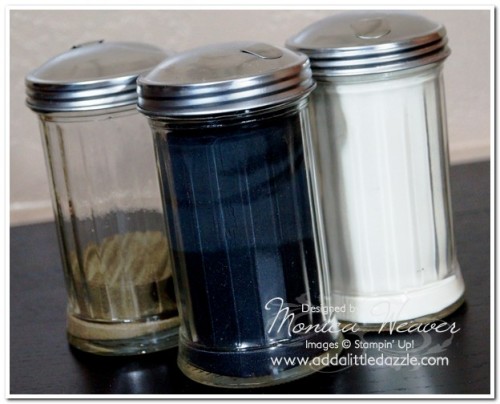 Time to Organize
For quite some time I have been storing my Embossing Powders in sealed Tupperware containers. After using this system for a while,  I didn't like it because I couldn't see what color was in the container.  I had to open every one of them to see if I had the correct one. Yes, I could purchase clear ones, but I just wasn't liking it.  I love embossing powders and there are some that I purchase in bulk and because of this I needed to find a better system for me. 
As I was shopping at my local Dollar General I found these Sugar Dispensers on clearance for 60 cents. Immediately the light bulb in my head went off and I said, "This is perfect for my embossing powders and glitter".  I purchased all the ones they had in stock and then went to Walmart and purchased more for $1. Honestly, you can beat that price.
I love being able to see the colors and easily pour it on my project.  Then, I can pour the excess back in the container without having to worry about getting it in to the small containers.  I am very happy with this and now I need to label all of them so I know what each one is. I easily confuse Clear and White Embossing Powder.  I also love that I have been able to store my glitter in these containers.  Not only do I love how easy this system is but if you wanted to use it to decorate your craft room the colors look beautiful displayed.
Leave a Comment!
How Do You Store Your Embossing Powder?