Great Grads Crafting Metal Sheets Pop-Up Gift Card Holder
Great Grads Crafting Metal Sheets Pop-Up Gift Card Holder is our featured post today. With graduations around the corner, this is a perfect way to package your gift cards and money gifts for the graduate. Say goodbye to the standard gift card holders and say hello to a dazzling looking gift card holder that the recipient will love.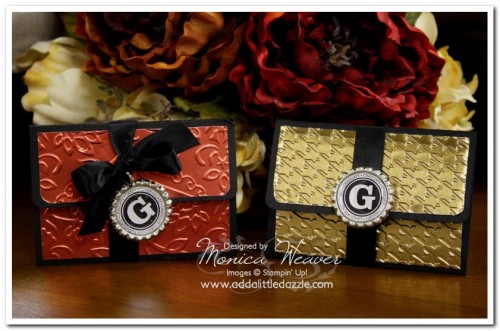 The Great Grads Crafting Metal Sheets Pop-Up Gift Card Holder is a beautiful gift card holder that was inspired by Gina. I loved it but wanted to give it my own spirn using Add a Little Dazzle crafting metal sheets.  In addition, I changed the measurements from the orginal creation as to accomodate the thickness of the crafting metal sheets so that the gift card wouldn't tear at the edges.  To create this pop-up gift card holder, I used the Houndstooth Impressions Folder and Golden Glimmer Crafting Metal Sheets. I also used bottlecaps and bottlecaps with rings.   With graduations right around the corner, I wanted to create something for the special occasion and used My Digital Studio and the Great Grads Digital Stamp Brush Set to create the 1″ circle for the flattened bottlecap and the sentiment on the inside of the gift card holder.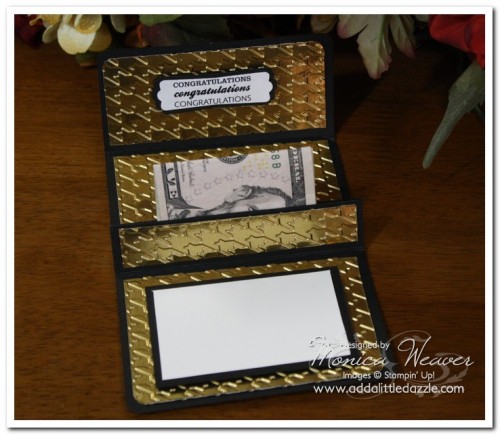 One of the features I love about this gift card holder is the ability to place a gift card of any size into the slot. You can even slide in cash, checks, movie tickets, and anything else you can think of.  Using My Digital Studio made it so easy to create the images that I can now mass produce.  I love the ability to resize our images and mass produce using My Digital Studio.  This is an excellent feature and great product to use to help you in your party preparations.  In order to help make your transition to using My Digital Studio smooth, I am including a video to show you how to resize images.  Once you have watched that video, then you can watch the second video that will help you bring it all together as you create this dazzling "Pop-Up Gift Card Holder".

CLICK HERE

to purchase Stampin' Up! product and

CLICK HERE

to purchase Add a Little Dazzle Crafting Metal Sheets