Add a Little Dazzle 2012 Collection Craft CD
Add a Little Dazzle 2012 Collection Craft CD is an amazing resource full of exciting tutorials, videos, and much more.  As crafters we spend hours searching the internet for ideas and many times come back empty handed.  If you are like me, you come away very frustrated with nothing accomplished.  Honestly, it can become very disheartening and frustrating especially when you have a project you need to get done.  Today, I want to share a resource tool that has everything organized for you in one place and will help you with your inspirational needs.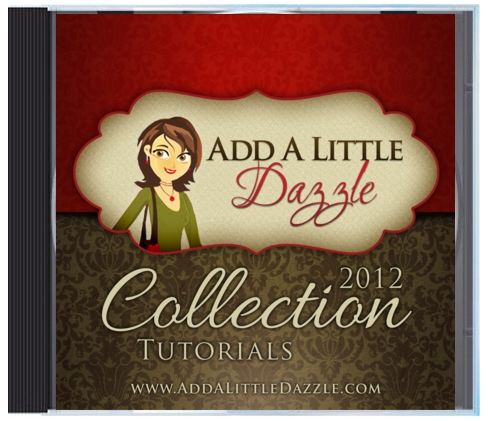 Do you spend hours on the internet searching for ideas for your next crafting project?  Do you wish you had a resource tool that would help you find just what you are looking for? I am excited to tell you about our amazing craft CD that we release every year at Add a Little Dazzle.  This amazing CD features all the posts we shared at Add a Little Dazzle in 2012. Not only will you find all the pdf tutorials we posted, but you will also find over 30 instructional videos that coordinate with the projects.  We have done all the work for you and have organized everything for you in ONE PLACE. Say goodbye to the pile of pdf tutorials and say hello to easy accessibility to tutorials that will allow you to start creating right away.
2012 Add a Little Dazzle Collection Craft CD includes:
PDF Tutorials: Over 45 pdf file tutorials with detailed instructions and supply list
Video Tutorials: Over 30 videos embedded in the pdf tutorials
How to Do Instructional Videos: 7 videos
Best of 2010: 5 pdf tutorials found on the Add a Little Dazzle Blog in 2010
Best of 2011: 5 pdf tutorials found on the Add a Little Dazzle Blog in 2011
Sugar Scrub Recipes: 3 NEW SPRING RECIPES
Add a Little Dazzle Tutorial: 2 tutorials longer available for sale
Metal Sheet Color Coordination Chart
Metal Sheet Sampler Color Chart
12 Weeks of Christmas 2012
FREE SHIPPING!
  

Let me break it down for you…
PDF Tutorials: 50 x $5.95 each= $267.75
Video Tutorials: 30 x $5.95 each = $178.50
How to Do Instructional Videos: 7 x $5.95 each = $41.65
Best of 2010: 5 x $5.95 each = $29.75
Best of 2011: 5 x $5.95 each = $29.75
Sugar Scrub Recipes: 3 x $5.95 each= $17.85
Add a Little Dazzle Tutorials: $31.95 
Metal Sheet Color Coordination Charts  $11.95
Metal Sheet Sampler Color Chart $7.95
12 Weeks of Christmas 2012 $26.954
Valued at $644.05
YOUR COST ONLY $46.95 (FREE SHIPPING)