Elegant Butterfly Metal Embossed Card
Elegant Butterfly Metal Embossed Card.  I am so excited to share today's card with you.  I love the look of butterflies on cards and so when a new Butterfly Punch was released I knew it was time to put it to good use.  There are so many projects you can create with butterflies and I decided to give it a try with Add a Little Dazzle Craft Metal Sheets.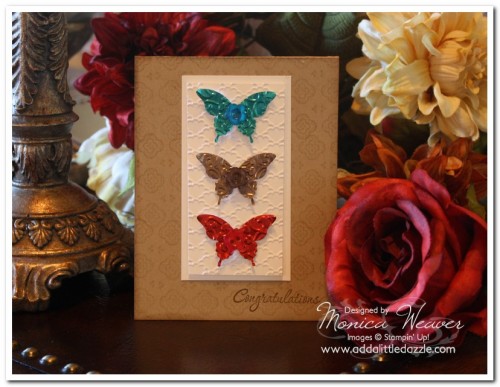 The "Elegant Butterfly Metal Embossed Card" is so simple to make, yet it has such a beautiful and elegant look to it.  The background of the card was stamped using the Alhambra Jumbo Wheel.  In addition, I used the new Fancy Fan Impressions Folder for a subtle look and used the Vintage Wallpaper Impressions Folder to add a more dramatic look to the beautiful "Elegant Butterflies" using the Elegant Butterfly Punch.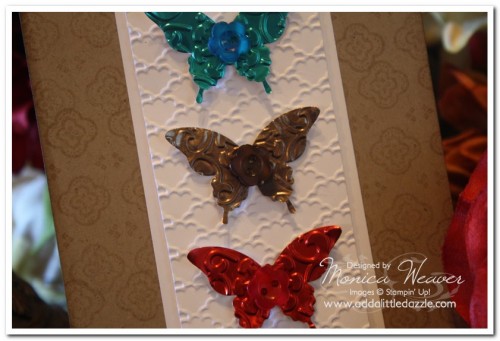 The metal sheet colors of the butterflies are Peacock, Bronzed God, and Scarlet Red.  To complete the look, I added a coordinating button to the center of each butterfly. This card is so versatile and by changing the sentiment you can create the perfect card for any occasion.  Make sure to download your free pdf tutorial and watch the instructional video.  This is a dazzling card you can make in a matter of minutes.