DIY Christmas Gifts Inspiration & CD
DIY Christmas Gifts Inspiration & CD.  I love making gifts for the holidays, but what I love even more is when I receive emails and pictures from customers showing me what they have made. I just love it!!  Join me today as I share with you the amazing work of one of my long time customers.  I couldn't believe I hadn't thought of this, BUT I can't always think of everything. Can I? 😉
This Year's Craze
When I first started thinking about DIY Christmas Gifts I had no idea what I would make that my customers would just LOVE. As I was searching the internet, I discovered the beauty of a Poinsettia and immediately I thought this would be beautiful using Add a Little Dazzle Craft Metal Sheets.
I ordered everything I needed and got busy working.  OMW, what a beautiful surprise when I saw the beauty of a Metal Embossed Poinsettia. Behold my eyes fell in love!  What was amazing even more was how much everybody loved it!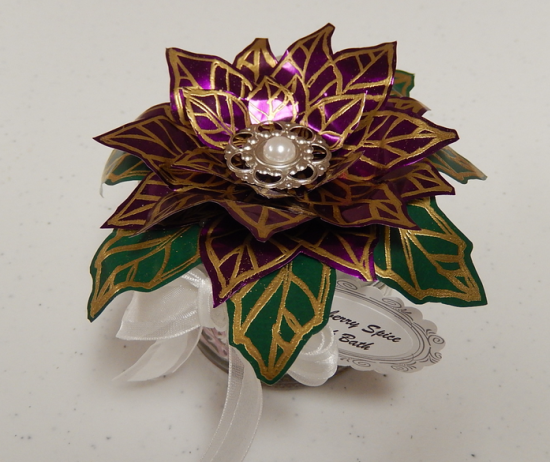 Sharing Time
Today I would like to share some pictures Denise Trethaway sent me.  She created these beautiful metal embossed poinsettias using Polished Purple, Princess Pink, Scarlet Red, and Garland Green Add a Little Dazzle Craft Metal Sheets.  
I LOVE the way these DIY Christmas Gifts came out and asked her if I could please share it with you. Denise was so gracious and said yes.  She did something a little different and added these beautiful metal embossed poinsettias to the top of mason jars and filled them with Cranberry Spice Milk Bath.  How creative!
As soon as I read what she put inside of these jars, I thought of our Homemade Spa CD and thought I would share more details with you as this CD I made last year is filled with one-of-a-kind amazing recipes not seen anywhere else.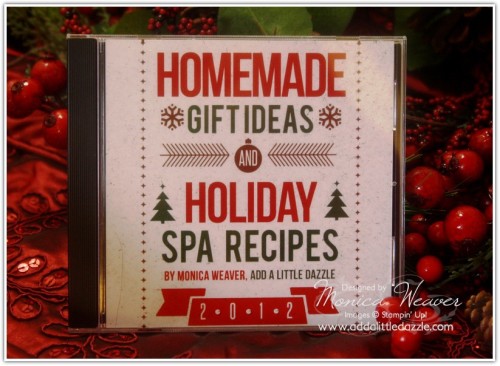 Spa Treatment
Have you ever thought about making homemade Spa Treatments for those on your Christmas List?  Last year, Add a Little Dazzle released a Holiday Spa CD and everybody loved it. Not only were they able to use it for themselves but to give as gifts.
These CD's are professionally made and are beautifully packaged for you to give this holiday season. This CD is filled with delicious easy spa recipes you can create in the comfort of your home and then it gives you a tutorial to help you with beautiful packaging.
I have a perfect recipe that would look dazzling in here. The Peppermint Foot Soak recipe would look beautiful in here and is filled with amazing ingredients to help relieve foot pain. That is just one of the many recipes in this CD.
Order your Holiday Spa Recipe CD and Add a Little Dazzle Craft Metal Sheets

HERE

!