DIY Christmas Gift Ideas
DIY Christmas Gift Ideas is a wonderful way to add a personalized touch to your gift giving this holiday season. Whether you are a novice or an experienced crafter there is just something special about making a Christmas gift for the holidays.  With some creativity you can make beautiful gifts that look store bought for a fraction of the cost.  Join me today as I teach you how to make a beautiful Christmas gift with candles.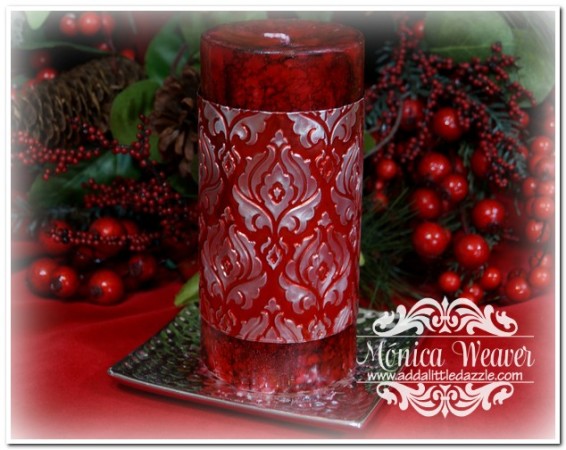 During this time of year crafters everywhere are looking for DIY Christmas Gift Ideas.  Whether it is for family, friends, or colleagues there is always the need for ideas to create beautiful gifts for the fraction of the cost.  Candles are a very popular gift during the holidays. With some Alcohol Ink, Add a Little Dazzle Craft Metal Sheets, and Stampin' Up! product you can create amazing gifts this holiday season.  If you missed yesterday's video on how to color your own candle, CLICK HERE and watch this amazing video.  You will love it!
Afterwards, come back here and watch this video in which I will teach you how to create a beautiful metal embossed sleeve.  This project has been a favorite among our followers and was actually the first project I created as I introduced Add a Little Dazzle Craft Metal Sheets on our blog.  This was a paid tutorial for a long time, but now you can learn how to make it for FREE. Enjoy today's video and make sure to place your order for Add a Little Dazzle Craft Metal Sheets today!
 Order Add a Little Dazzle Metal Sheets Today!
CLICK HERE

 to order Add a Little Dazzle Craft Metal Sheets and  
C
heck out our Bulk Buy Program
HERE