Dazzling Diva Challenge #54
Dazzling Diva Challenge #54.  Welcome to our weekly challenge.  We are so excited to be here with you after an exciting Black Friday and Cyber Monday Sale.  We added so many new fun products to our store and you are going to start seeing us play with them in our challenges.  Today, we have a fun challenge for you and so this is the perfect opportunity to pull out our Add a Little Dazzle Craft Metal Sheets and accessories and have some fun. Grab a warm blanket and cozy up! YOU ARE GOING TO LOVE IT!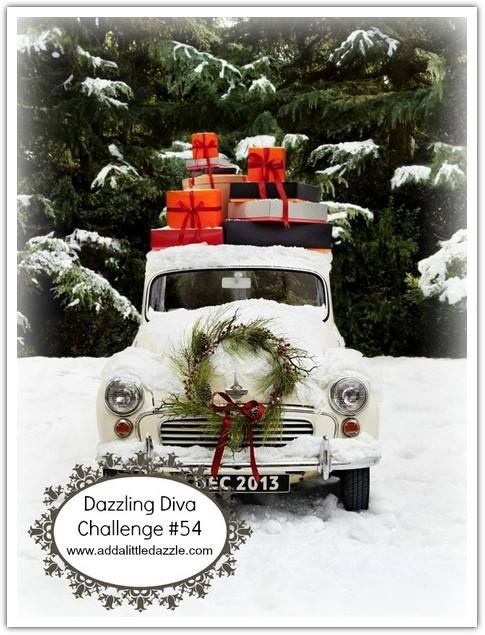 This week Dazzling Diva Challenge #54 is all about Snow/Snowflakes or Anything Goes.  I love the sight of snowflakes during the holiday season and love to decorate with them. There are so many fun projects you can make with snowflakes as a theme and today the Dazzling Diva Design Team and I are going to showcase those for you.  
Make sure to scroll down all the way to the end of this post, visit the design team's blog, and make sure to leave them some love. We have some amazing projects to share with you today!

The Challenge is Over
The holiday season can get quite expensive.  If you are like me, the gift giving list is a mile long right now. The teachers, secretary, principal, bus driver, postal worker, Sunday School teacher, bank teller to name a few. As you can see the list can grow pretty fast and the wallet can quickly become empty.  Honestly, gift giving during the holiday season can become quite challenging.
Today I would like to share with you this inexpensive gift that will make the challenge OVER for good. Let me introduce you to the Gothic Snowflake Candle Holder.  I created this simple candle holder using our newest Gothic Snowflake Stencil along with White Embossing Paste, Dazzling Diamonds, and the Palette Knife. Oh yes, I used these awesome glass candle holders from the Dollar Store and paid ONLY $1.
Easy Steps
To begin the process, I sprayed the back of the stencil with Temporary Spray Adhesive.  I normally wouldn't do this but the Glass Candle Holder has a small bend and so doing this allowed me to securely attach the stencil to the glass and spread the White Embossing Paste without getting any of it underneath the stencil.
Once I finished applying the Embossing Paste, I removed the stencil and poured some Dazzling Diamonds over the wet embossing paste and allowed it to dry. Immediately, I placed all my tools that came in contact with embossing paste in a small tub with warm water.
I wanted to create mine to decorate my home and so I placed a small candle inside, but you can also fill it with candy or anything else. Then, just place it inside a pretty clear bag and add a metal embossed tag using the same stencil. Did you know you can Metal Emboss with Stencils? Check Out this video HERE.  Make sure to order the No More Shims Embossing Mat so you can emboss with your stencils.
 Order Your Stencils,Embossing Paste, and Craft Metal Sheets HERE!
Same Day Shipping on All Orders!
Your Turn!
So pull out your crafting supplies and make a project using a Snowflakes or Anything Goes. Then, share it with us by linking to the bottom of the post.  You have until Tuesday, December 9th to enter.  The winner will receive a $15 Metal Sheet Prize Pack. Find out the Winner of Challenge #53 at the end of this post.
Dazzling Diva Challenge #53 Winner –
Dorothy
Enter Challenge #54 Below!