Dazzling Diva Challenge #51
Dazzling Diva Challenge #51.  What is your favorite time of year? Mine is definitely the holiday season. Although I hate the rushing around and hecticness, I love the ambiance and all the beautiful things we make to decorate our homes and parties.  Times have changed and there are so many different ways of decorating our homes for the holidays. Some like the more trendy laid back look while others enjoy the shimmer and shine of it all. I am definitely a shimmer and shine kind of woman yet I love seeing how everybody brings in their unique style into the holiday season.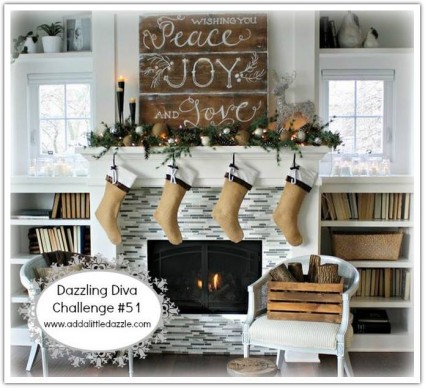 This week Dazzling Diva Challenge #51 is an Inspirational Photo or Anything Goes.  This is definitely a very trendy holiday image and so I decided to use it as an inspiration piece to see what the team would come up with. I was pleasantly surprised and know you will be, too.
So, for this week's challenge let the photo inspire you however you choose. There are so many things going on in this picture and would love to see where you draw your inspiration from.   You have until Tuesday, November 18th to enter.  The winner will receive a $15 Metal Sheet Gift Pack Prize.
I invite you to check out the Dazzling Diva Design Team's Cards. Scroll to the end of this post and you will see all the buttons. Click on each one and enjoy the design team's creations. Make sure to leave them some love with a comment. They love to hear from you.
Elegant Luminaria
When I looked at this week's inspirational photo, my eye was immediately drawn to the fireplace. I love the warmth and ambiance that having a fireplace creates and so I knew I wanted to use that as my starting point.
I absolutely LOVE luminarias and candles in general. For a while now, I have been thinking about making a luminaria. The main things I wanted to address were that it could withstand heat and wear and tear.  After months of working through this idea, I am excited to share my finished project with you today.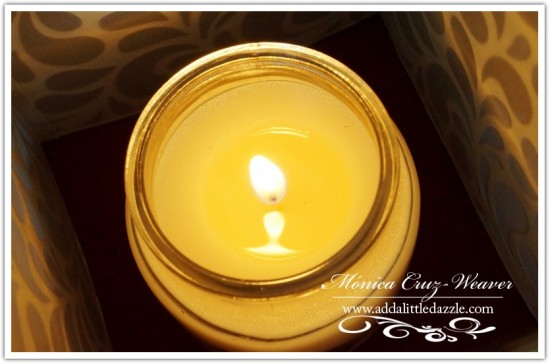 Hit and Miss
As you know, Add a Little Dazzle Craft Metal Sheets are 38 gauge.  This means that in order for it not to bend you have to adhere it to a sturdy surface.  Personally, I tried many surfaces and the issue I faced was being able to cut through the material, craft metal sheet, and adhesive sheet with a Cover Plate. As a result, I always ended up having to go back to the drawing board until I finally found the solution.
I created this simple, yet beautiful luminaria using Brushed Bronze Craft Metal Sheets and a Lil' Inkers Cutting Plate.  In addition, I used Adhesive Sheets, 1/4″ Scor-Tape, and Vellum Paper.  
Faux or Real 
Personally, I love using real candles. I love the warmth and the aroma that comes from a real candle.  If you are like me and want to use real candles, either purchase small glass jar candles or purchase the square glass votive candle holders from the Dollar Store and place your candle inside. This will not only protect your table, but it will also keep the heat contained and not heat up the vellum or craft metal sheet. The main thing to remember is to never leave your candle unattended.
If you have a gathering where there is danger of it being knocked over, then battery operated candles is definitely your best choice. They come in all shapes and sizes and are perfect, too. You can reuse them over and over and create more beautiful luminarias for other special occasions on the calendar.
Want to Learn How to Make a Metal Embossed Luminaria?

Add Some Dazzle to Your Holiday this Year
Dazzling Diva Challenge #50 Winner – Bethie J.
Enter Challenge #51 Below!