Christmas Card Ideas
Christmas Card Ideas is on top of the list of all crafters.  As we prepare for the holiday season, we  want to have the perfect Christmas card for all our friends and family. I am so excited to be able to share a beautiful and easy card you can create in time for the holidays. You will be amazed at how easy it is to create the beautiful metal embossed Poinsettia featured in today's card.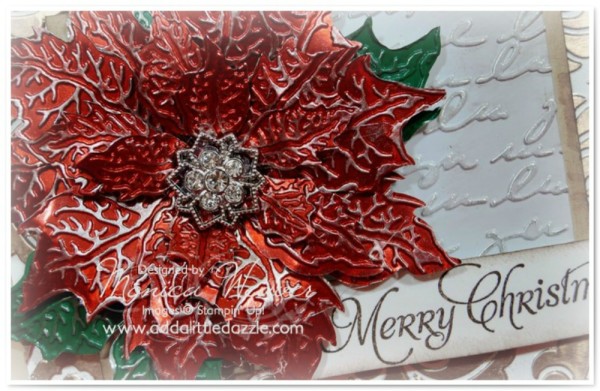 It is time to get lots of Christmas Card Ideas.  My goal is to provide you with Christmas Card Ideas that are beautiful and different.  I know how important it is to create the perfect Christmas card and I am  here to help.  Add a Little Dazzle Craft Metal Sheets are the perfect addition for cards year 'round but using them during the holidays makes it even more special.
Today I would like to teach you how to create the beautiful metal embossed Poinsettia featured in this card. It is really easy and you will have a beautiful card to share with your loved ones this holiday season.  I have included a pdf tutorial and instructional video for you to learn how to make this beautiful card. The free pdf tutorial includes all measurements, list of supplies, and instructions.

Order Add a Little Dazzle Metal Sheets Today
Here are the metal sheet colors you will need for recreating this card.  In addition, I have listed how many pieces you can get from each metal sheet.  This will help you in ordering the correct amount of metal sheets.
Scarlet Red Metal Sheet (2 Poinsettias from one sheet)

Garland Green Metal Sheet (2 leaf sets from one sheet) 

Brushed Bronze Metal Sheet (4 card fronts)

Wondrous White Metal Sheet (16 center pieces)
CLICK HERE

 to  Shop Our Boutique!
Need To Order Large Amounts?  Check out our Bulk Buy Program

 

HERE