Add a Little Dazzle and Stampendous Blog Hop- Day #5
Add a Little Dazzle and Stampendous Blog Hop Day #5.  Can you believe how fast this week has gone by?  It is the final day of our blog hop. We have had so much fun creating projects to share with you.  The feedback has been wonderful and we are so glad you have enjoyed it.  So, as we close this week's blog hop, we are going out with a BANG with the Grand Finale.  Grab a cup of coffee and enjoy our MEGA line up of designers today. Let's have some fun!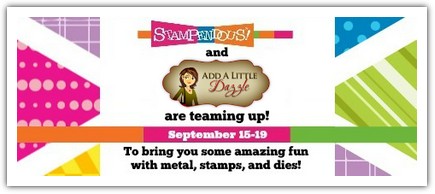 Today is Day 5 of the Add a Little Dazzle and Stampendous Blog Hop!  It has been an amazing week of inspiration and we have had some amazing designers share amazing work with you. 
I invite you to visit all our designers today. We are going out with a BANG with a GRAND FINALE!!! We have 6 prize packs up for grabs. All you need to do is leave a comment at each blog. Then, each company will choose 3 winners and we will each announce them on our blog.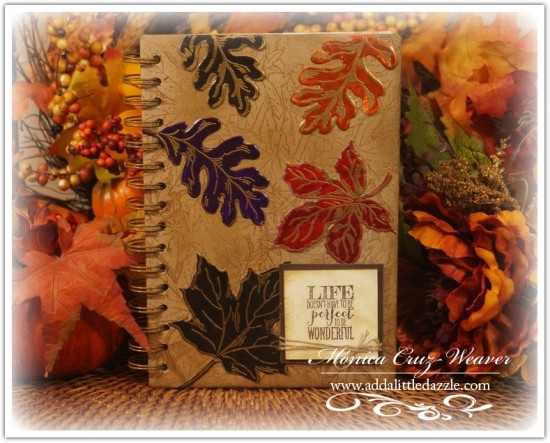 Life Isn't Perfect
As a young child, I remember wanting so desperately to grow up and be an adult. I wanted to have my own home, my own family, and not have anybody tell me what to do.  What I would do to go back to those innocent years when life was perfect. Of course I didn't think it was perfect back then because I had to do what my parents told me to do. 
Now, I truly realize there is no perfect. We always wish to have what the other person has or wish things were different in our lives. Then, we realize somebody else wishes they had what we have.  It is a wake up call and you realize that although life isn't perfect it is still wonderful. It is all about perspective and how we choose to view our life and circumstances.  
Whenever we think life is rough, God has a way of reminding us that there is somebody who has it worst than ours and it helps put things in perspective. That is the experience I had this week through this blog hop and is the result of today's project.
My Wonderful
Lately, God has been dealing with me about not comparing my life to others.  He is teaching me to be content with where I am at and helping me to realize that this is "my journey" that He created for me. I may not be where I want to be but HE has me where HE wants me to be at this point in my life. I can choose to have a positive or negative attitude about it. 
So, I decided it was time to start thanking God for all His blessings. It is so easy to get caught up in the negative and lose sight of our blessings. When we start being thankful, we realize how truly blessed our lives are everyday.

My Attitude of Gratitude
So to start this journey I decided to create this Thankful Journal.  Here I will write down what I am thankful for everyday.  This will help me really focus and realize how truly blessed I am.  Then, every Saturday I will share one of the week's entries with you and share what I learned that week.
I invite you on this Thankful Journey with me.  Next week, I will teach you how to create this altered journal that I purchased for $3.  It is simple, yet a great way to write down your thoughts and even makes a great gifts for friends and family.
This journal was created using the Jumbo Leaves Stamp Set.   Leaf Background Stamp Set, and the Leaf Die Cut Set . Stay tuned tomorrow as I share this week's journal entry and then my recipes on Sunday.  Then, starting Monday I will share tutorials for this week's projects. Make sure to come back.
Leave Me a Comment and Tell Me What You Are Thankful For Today!
As we close this week, I would like to the opportunity to thank our Guest Designer Gracie Chavez for joining us during the Stampendous Blog Hop. It was a pleasure to work with her and to see all her beautiful designs. We wish her the best.
Would You Like to Learn How to Make the Projects Featured In This Blog Hop?
Next week I will have an instructional videos teaching you techniques showcased this week. Meanwhile, sign up for my newsletter and learn how to make a beautiful metal embossed wrap for candles.
In addition, sign up for email updates.  Be the first to know about what is going on here at Add a Little Dazzle.
Prize Alert! 
Enter for a Chance to Win a Prize Pack!  Be sure to stop by and comment on each of the Design Team Blogs for a chance to win 1 of 6 prize packs from both companies! You have until Sunday, September, 21st to enter. The winners will be announced on both company blogs the following week.  You must leave a comment on all blogs.
Be Sure to Visit Each of the Designers on This Blog Hop!
Stampendous
Wendy Price
Vicki Dutcher
Keren Baker
Janelle Stollfus
                                 Add a Little Dazzle<< You Are Here
Lea Kimmel
Cathy Parlitsis
Kristine Reynolds
Lee-Anne Cross
Graciela Chavez
Jamie Martin
Lydia Brooke-Evans
Asia King
Lee Ann Barrett
Amy Hurley-Purdie
Kate Capper
Pam Hornschu
Martha Lucia Gomez
 Did You Miss the Previous Day of the Blog Hop?
Here is Monday

 ,

 Tuesday, Wednesday, and

Thursday

Stampendous and Add a Little Dazzle Blog Hop Special!
During this week's blog hop, we are offering a special pack of Add a Little Dazzle Craft Metal Sheets.  This pack includes metal sheet colors that the Dazzling Diva Design Team will be using in their projects throughout the week. In addition, you will receive one pack of 25 pillow boxes in either large gift size or party favor size.  
Order your Stampendous Blog Hop Pack today and receive EXCLUSIVE PDF TUTORIALS using Stampendous Products and Add a Little Dazzle Craft Metal Sheets. This offer is ONLY available this week.  Order your Stampendous Blog Hop Pack today!