Add a Little Dazzle and Neat & Tangled Blog Hop-Day #5
Add a Little Dazzle and Neat & Tangled Blog Hop-Day #5. Welcome to Day 5 of our blog hop.  It has been a truly amazing week and I am so sad that today's our last day.  The inspiration and projects have been amazing and I have fallen in love with so many new products and styles of crafting.  Join us today for the Grand Finale of the blog hop and stay around until the end for a BIG ANNOUNCEMENT.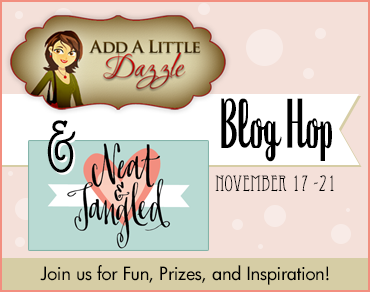 Today is Day #5 of the Add a Little Dazzle and Neat & Tangled Blog Hop.  What an amazing week it has been creating with Add a Little Dazzle and Neat & Tangled products.  I am amazed at everybody's creations this week and have so many simple, yet over-the-top ideas flowing in my head as I prepare for the holidays. I will be sharing them with you so make sure to stick around with us here at Add a Little Dazzle.  
We hope you enjoy today's line up of projects and will be inspired to visit our stores at Neat & Tangled and Add a Little Dazzle Craft Metal Sheets. Check out our exclusive line of products we carry for all your crafting needs.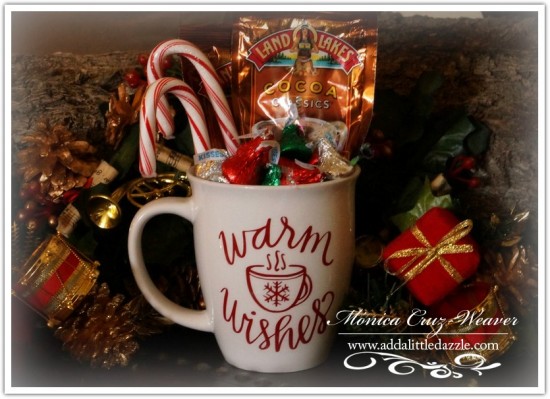 Hot Cocoa Mug
I couldn't resist and pulled out my Silhouette again. This time I played around with my order of vinyl that came in the mail yesterday.  I was so excited I couldn't resist pulling out a mug and creating this simple gift for the holiday season.
See how simple it is to create a personalized gift this holiday season? Just purchase the Warm Wishes Digital Stamp Set, pull out your electronic cutter, place your vinyl in the machine, and you have a beautifully cut design.

It's in the Details
I always say it's in the details.  Look at the beautiful cut made by the Silhouette. I am amazed at what this machine can do.  Honestly, this has to be the easiest holiday gift I will make this year.  Once these images are cut, all you do is attach them to your mug and you are done.
You may be wondering about the vinyl.  I have some exciting news to share with you. For this project I used a special vinyl that is water-resistant. You can actually hand wash this mug and the vinyl will not come off.  How amazing is that!!! Create a personalized mug that will last forever.
Where's the Metal?
Are you wondering where the craft metal sheet is in this project? Don't worry I am not done with this gift. I still have to package it. I have a beautiful packaging idea for this gift (which will include craft metal sheets). I will be sharing this with my newsletter subscribers.  
I will be sending out all those tutorials this weekend. Just want to make sure to get all of you signed up so  you don't miss out. See, I won't be sharing those instructions with anybody else. It is ONLY for my newsletter subscribers. 
Sign up for my 12 Weeks of Christmas Newsletter and receive this tutorial and many more for FREE.  Just click on the banner at the top and sign up. I even have an extra special offer for new subscribers. IT'S A SCREAMING DEAL!!!!

Did You Miss Our Special Post?
Yesterday evening, I released a post sharing some additional project ideas using the Cricut and Silhouette. If you missed it, no problem. CLICK HERE and check out the post.  
 
Be sure to visit each of the designers on this blog hop!
Neat & Tangled
Add a Little Dazzle <<—YOU ARE HERE!!
Amy Tsuruta
Joni Andaya
Lee Ann Barrett
Kate Capper
Keren Baker 
Prize Alert!!!
We have an awesome giveaway!  Enter for a chance to win 1 of 2 prize packs from both companies!  You have until Saturday, November 22nd midnight (MDT) to enter. The winners will be announced on both company blogs.
You must leave a comment on all blogs (including company blogs) for a chance to win 1 of 2 prize packs!
Black Friday Sale!!
Black Friday is Coming!!! We are excited to be releasing some new products and we have some amazing sales for YOU!!! Sign up for updates and be the first to get our Black Friday Sale. Limited Quantities Available!!!