Add a Little Dazzle and Neat & Tangled Blog Hop – Day #2
Add a Little Dazzle and Neat & Tangled Blog Hop-Day #2. Are you ready for another exciting day of hopping?  Yesterday was an amazing first day and we are so glad you joined us.  I am amazed at how many talented crafters are out there and how everybody uses stamps, dies, and Add a Little Dazzle Craft Metal Sheets so differently.  The inspiration is never-ending and today will prove to be another exciting day as we begin Day 2. Let's have some fun and make sure to leave some love to enter for a chance at one of the two prize packs up for grabs.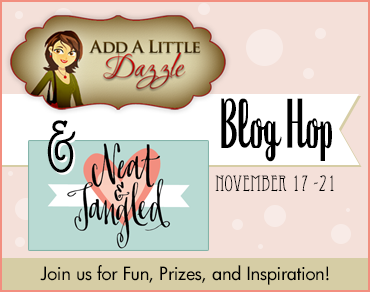 I want to begin apologizing for posting late. This morning my computer decided to crash and with it went today's post. Unfortunately, I couldn't access my blog from another computer without blocking myself out and so I had to work through the process until I could get mine up again. Very frustrating morning but here I am. 🙂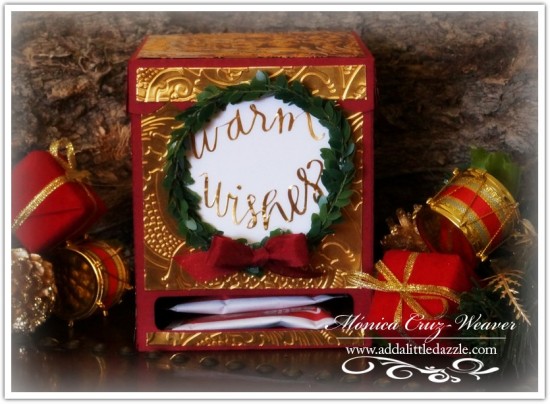 Confession Time
I must confess I love my Silhouette Cameo! My absolute favorite items to create are 3D items and using Add a Little Dazzle Craft Metal Sheets and the Silhouette Cameo makes it a breeze.  There is so much you can do and today's project is just a small glimpse of where my crafting will take me this holiday season.
Hot Cocoa Dispenser
I love making 3d items and so when I saw this Hot Cocoa Dispenser I knew I wanted to make one for the holiday season. I made some changes to the file to create the project I had in mind. Then, all I did was send it to the Silhouette and in a matter of minutes my box was ready to assemble.
After assembling the box, I embossed Golden Glimmer Craft Metal Sheets, applied Scor-Pal Tape to the back of each piece, and attached it to each of the panels.  I love the elegant look it added to this simple box that is filled with Hot Cocoa Packs. What else would you add to this if you were gifting it this holiday season?
Neat & Tangled
Did you know that Neat & Tangled has digital files? I took the Warm Wishes Digital File  and converted it into a file that can be cut using the Silhouette. I love that you can add and take away and even resize.  Honestly, I am in Silhouette heaven right now.  
Warm Wishes was cut out using Golden Glimmer Craft Metal Sheet on the Silhouette.  Honestly, it is my first time doing this and I AM AMAZED and HOOKED. 
This image is also available as a stamp set HERE and I recommend purchasing it. Honestly, I recommend owning both the digital file and the physical stamp. There is so much you can do with both of them.
Want the Tutorial?
I have created  a TUTORIAL for this project and will release it in a few days.  Would you like to receive it for FREE?  Sign up for my 12 Weeks of Christmas Newsletter and receive this tutorial and many more for FREE.  Just click on the banner at the top and sign up. I even have an extra special offer for new subscribers. IT'S A SCREAMING DEAL!!!!
 
Be sure to visit each of the designers on this blog hop!
Neat & Tangled
Add a Little Dazzle <<—YOU ARE HERE!!
Yana Smakula
Jocelyn Olson
Lee-Anne Crosse
Kate Capper
Vicki Dutcher 

Prize Alert!!!
We have an awesome giveaway!  Enter for a chance to win 1 of 2 prize packs from both companies!  You have until Saturday, November 22nd midnight (MDT) to enter. The winners will be announced on both company blogs.
You must leave a comment on all blogs (including company blogs) for a chance to win 1 of 2 prize packs!

Special Bundle Pack!!!
Are you excited and want to try out Add a Little Dazzle Craft Metal Sheets? Order our Ultimate Sampler Pack today! Receive an EXCLUSIVE PDF TUTORIAL.  Order your Metal Sheets today!
 Limited Time Offer!