What Is Your Favorite Embossing Technique?
What Is Your Favorite Embossing Technique? is our Question of the Week. Honestly, I love embossing because it is an elegant process that changes the nature of the material that has been embossed. Whether it is a card, 3d item, or Home Decor Item embossing elevates the standard and quality of your project.  Embossing makes things more beautiful than they originally are.  If you have a quality embossed image, you can make any object absolutely breathtaking.  Learn what my three favorite embossing techniques are.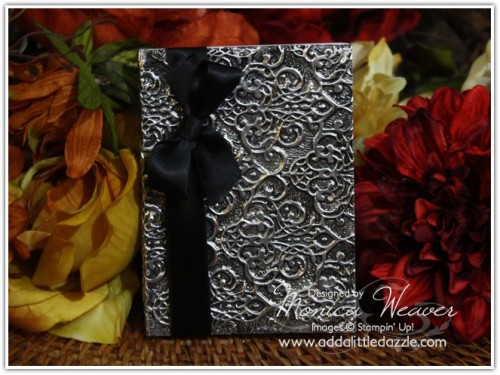 Embossing refers to the creation of an impression of some kind of design, decoration, lettering or pattern on another surface like paper, cloth, metal and even leather, to make a relief.  There are so many different embossing techniques and they are all beautiful, but today I am going to share my three favorites embossing techniques and then I am going to teach you how to create a beautiful project using two of those techniques.
Three Favorite Embossing Techniques
1. Heat Embossing- process in which you stamp an image on a surface with VersaMark or Craft Ink, pour embossing powder over the image, remove excess, and set with the Heat Tool.
2. Machine Embossing- process in which you use an Impressions Folders and the Big Shot to create embossed images.
3. Hand Embossing- process in which you use special tools to create and define embossed areas in a design.
Metal Hand Embossing is an art form that has been around for centuries. This process of embossing is known as repujado in Spanish and repoussage or repousse in French.  In today's project, you will learn a basic technique that will start you on the path of integrating metal hand embossing with machine embossing.  We will be teach you how to combine these two methods of embossing to create a one-of-a-kind project that can only be found here.  Learn how to incorporate Stampin' Up! products, machine embossing, and hand embossing to create a one-of-a-kind cards, 3d items, gifts, and much more.

Click Here to Shop Our Boutique for Craft Metal Sheets and Tools!