We've Moved to….
We've Moved to… Hello friends. You may be wondering what happened to us. Well, a lot has changed in the past few months and we are settling in. Right after Easter, my husband was offered a new position and in a matter of a month we packed our home, business, and family and moved to Oklahoma…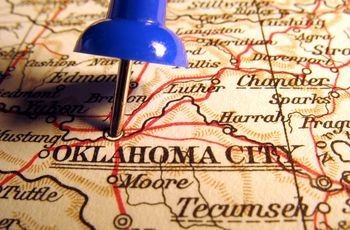 Not Our Plans
Never in a million years would I have EVER imagined moving to Oklahoma. Honestly, our goal was to move to Florida to be near family. Our plans are not God's plans and sometimes we have to accept what God gives us as He knows what is best for us.
Although the change from New Mexico to Oklahoma was rough at first, I have to say we are loving Oklahoma. We absolutely love it here. We are happy and adjusting to the change. We have prayed a lot and asked God to help us through this change and He has been faithful and good to us.
The kids have just finished playing on a summer basketball league and are getting ready for soccer. School also starts next month and the kids are thrilled to meet new teachers and make new friends.
What's Next?
Being that we sold all our furniture, it has been fun redecorating our new home. It can be expensive, so I have been doing it on a budget and getting creative with wonderful finds.
I have even started getting creative with my Add a Little Dazzle Craft Metal Sheets. The projects are simple and add a great touch to our new home. I will be sharing some of the fun creations with you next week. 🙂
I had to put Revived Wellness a hold on it during the move BUT I am back on track working on the blog with a new coach. I am excited as I will not only be offering a wellness program for moms BUT for the entire family.
This includes whole food lunch ideas for the kids as they get ready for back to school and even my personal pick on safe lunch boxes for the kids. The recipes I will be sharing will be loved by the entire family. I have been testing them on picky husbands and NONE of them knew it was healthy and asked me to please give their wives the recipe.
Make sure to sign up for Revived Wellness HERE.

We Brought Them With Us
You may be wondering what happened to Add a Little Dazzle Craft Metal Sheets. Well, we brought them with us and now have it all organized so we can process orders.
Next week, I will be sharing some simple metal embossing projects that I have created for my new home. One of them even includes decorating a simple glass bottle that is filled with my special recipe I will be sharing with you next week.
Ready to stock up on Add a Little Dazzle Craft Metal Sheets for your next home decor project or even getting an early start on your Christmas Cards? Place your order today and stock up on colors that are running out.
Shop at Add a Little Dazzle Boutique HERE!