The Big Reveal: Black Friday Sale
Welcome to The Big Reveal: Black Friday Sale!  We are so excited to have you join us during our Black Friday Sale!  Add a Little Dazzle specializes in combining our love for papercrafting with Metal Sheet Embossing to offer you a unique crafting experience. Today, we are excited to take your unique experience to a new level as we reveal our new line of metal sheet colors.  6 New Metal Sheet Colors plus 2 Old Colors Returns!
Add a Little Dazzle is excited to announce the official release of 6 New Metal Sheet Colors plus 2 Old Colors! We have listened to your requests and have brought some colors you have been asking for and more.  These colors were handpicked with you in mind.  We are excited to reveal our new colors.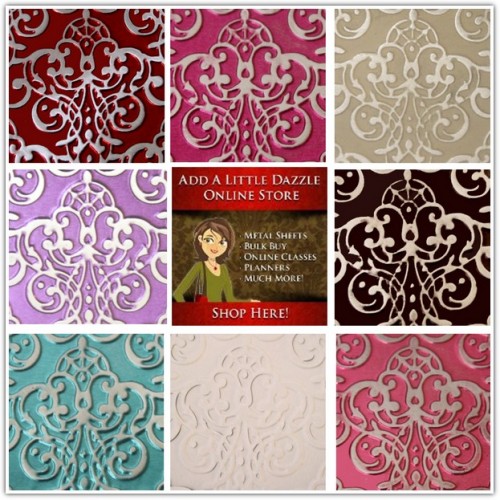 Rustic Red: formerly known as "Barn Red".  This beautiful color perfectly compliments with Cherry Cobbler Card Stock and is perfect for the holidays and much more.
Pucker Me Pink: is a beautiful deep rich dark pink color. This color has a beautiful rich color that is perfect for the diva in you.
Precious Pearl: formerly known as "Pearl White". This color beautifully compliments with all Stampin' Up! Colors and is perfect for all occasions year 'round.
Lovely Lavender: a beautiful metallic color.  This color beautifully coordinates with projects for all occasions.
Dark Rich Chocolate: is a deep espresso color that is perfect for manly creations.  This color is a perfect match with Early Espresso Card Stock.
Baby Blue: a beautiful light blue that is perfect for Baby Showers and all those special occasions in which you want a delicate but beautiful touch.
Wondrous White:  you asked for it and here it is. Beautiful, metallic white metal sheet. This is sure to be a favorite!
Princess Pink: this is a beautiful pink that is perfect for that feminine side in all of us.
We are also excited to announce the release of our new CD: "Homemade Gift Ideas & Holiday Spa Recipes".

Any $35 minimum orders will receive our new e-book for FREE.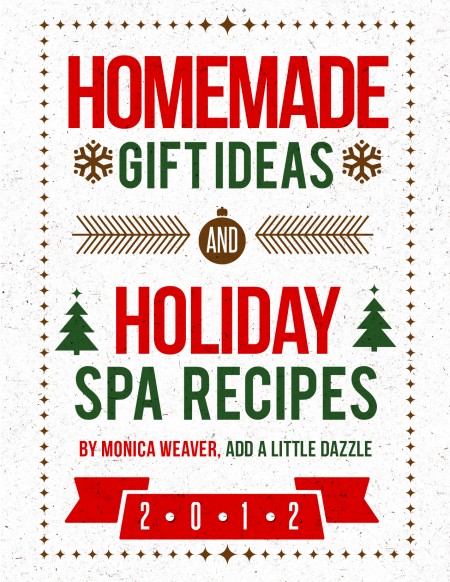 Are you looking to create unique, hand-crafted items that will help you stay on budget? Stop running around in circles at the store and relax at home as you create unique one-of-a-kind gifts this holiday season. Our new e-book is filled with beautiful gift ideas that will help ease your wallet and the stress involved with holiday shopping.
Our CD includes the following:
8 Spa Product Recipes- Bath Melts, Solid Scrubs, Soaks, Milk Baths, Fizzies, and much more.
Gift Packaging Tutorials- All Spa Product Gifts using Stampin' Up! products and Add a Little Dazzle Metal Sheets
Learn how to emboss and stamp your homemade spa products
All products use our NEW METAL SHEET COLORS!
Are you still wondering what kind of projects you will find in this CD? Take a look at this small glimpse at what you will find. This looks like an edible Chocolate Truffle, but it is actually a yummy Spa Product.  This looks and smells like something you can eat, but it is actually a deliciouS moisturizer for your skin. Not only will I teach you how to make this and many more gifts, but I will teach you how to package them with a lot of dazzle.  Get your e-book for FREE this Black Friday Weekend ONLY!  Purchase $35 in product from Add a Little Dazzle and receive your FREE CD.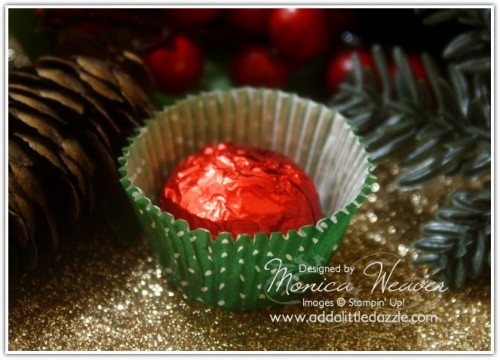 SHOP HERE NOW!