Swallowtail Stamp Set With Craft Metal Sheets
Swallowtail Stamp Set With Craft Metal Sheets is a unique project we are sharing with you today.  As I was going through my Spring Catalog stamp sets, I quickly realized I had not touched this stamp set.  I finally pulled out this stamp set and wanted to create a project where I could incorporate Add a Little Dazzle Craft Metal Sheets. At first I didn't know if I would be able to accomplish this due to the size of the stamp set.  After much thought and praying for inspiration, I came up with an idea that I am very excited to share with you today.  This is not only perfect to showcase in your home but to give as a gift.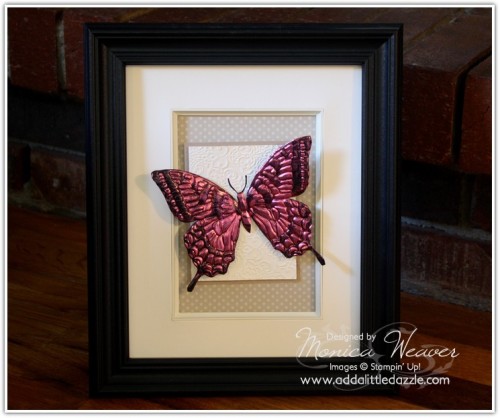 This beautiful frame is truly a masterpiece as this is completely handmade.  Yes, this beautiful butterfly is hand embossed by me and it can be hand embossed by YOU. The detail found in this butterfly is stunning a truly is a work of art.  With bridal showers, weddings, baby showers, and even Mother's Day around the corner this is the perfect gift that will stand out among the crowd.  I am telling you that nobody will believe you made this butterfly.  If you are looking for unique, one-of-a-kind projects then you have come to the right place.
The Swallowtail Stamp Set can be used on 3d items, Home Decor Items, and much more. This project will have people oohing and aahing and wondering how you made this. Nobody will ever believe you did this yourself.  I will teach you how to create this beautiful craft metal sheet butterfly and how to incorporate it into your crafting projects.  This is a very unique project that can ONLY be found here. 
Do You Want to Learn How to Create this Beautiful Craft Metal Sheet Butterfly?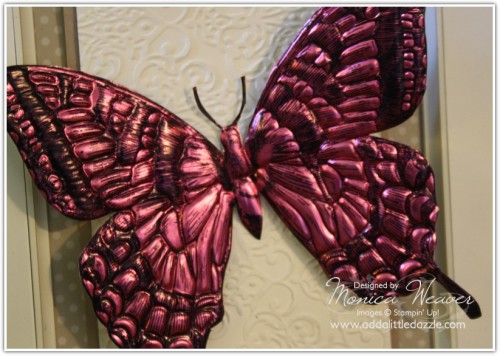 In the March 2013 Edition of the Add a Little Dazzle Virtual Club, our members will learn how to create this beautiful craft metal sheet butterfly frame along with a coordinating card and an additional homemade spa product. In addition, we will share more ideas on how to incorporate this beautiful butterfly into your projects.  This is an exclusive project for our Virtual Club Members.  Every month our members receive 2-3 exclusive projects in the comfort of their home. Projects showcased can be used for classes or your personal use.
We are commited to teaching you how to take your crafting to the next level by incorporating Stampin' Up! product and Add a Little Dazzle Craft Metal Sheets into all the projects showcased in the club.  We welcome Stampin' Up! customers and demonstrators who are looking unique projects. 
Join Virtual Club

HERE

!