Make It Manly Online Class:Card 3
Make It Manly Online Class: Card 3 Ever since the announcement of the release of our upcoming "Make It Manly Online Class", we have been receiving emails from readers telling us how much they struggle with masculine cards and how excited they are about this upcoming self-paced online class.  We are working hard behind the scenes for the launch of the Make It Manly Online Class and we are so excited.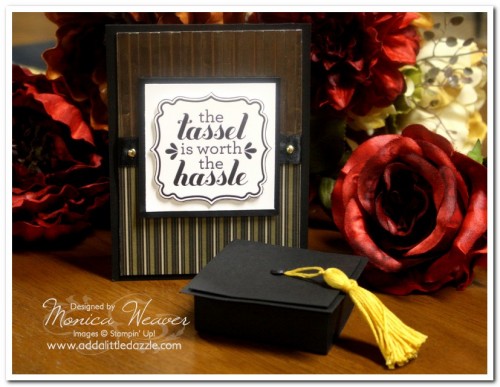 The "Make it Manly Online Class" is an exclusive one-of-a-kind online class in which you will learn how to combine rubber stamping and metal embossing for beautiful adult-like masculine cards.  Our cards are versatile so you can customize them for your special occasion. No matter how old the man you need to create a card for is we will teach you to do that Add a Little Dazzle style.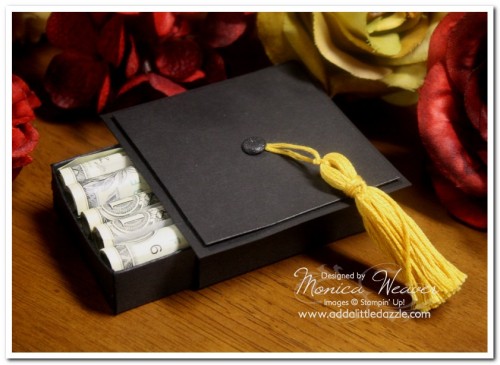 In today's video, I will teach you how to create the "You Go Grad Metal Embossed Card & Git Box" using the Mocha Morning Specialty Designer Series Paper (Item #122366) and Add a Little Dazzle Brushed Bronze Craft Metal Sheets.  This beautiful card features the You Go Grad Digital Stamp Brush Set (#129878) which has images that are perfect for upcoming graduations.  The striped lines in both the Designer Series Paper and the Stripes Impressions Folder creates the perfect adult masculine look.
In addition, I used Add a Little Dazzle Backing Paste to keep the striped lines in the Brushed Bronze Craft Metal Sheet from being crushed.  In order to bring it altogether, I also created a beautiful Graduation Hat Gift Box using the Matchbox Die (#114890) that will be retiring today May 31, 2012 at midnight.  Great news! You still have a few hours to order your die before it is gone FOREVER.
As you can see from the picture above, I took the bills and rolled them to look like small diplomas.  This card and gift box is PERFECT for a male graduate. Personally, I think this is perfect for a college graduate.  What a classy way to give a card and gift to that special man graduating with an undergraduate or graduate degree.

Shop Our Boutique

HERE!