How Do You Organize Card Stock?
How Do You Organize Card Stock? is a common question asked by crafters. Some people prefer to have it out in the open, while others prefer to have it out of sight.  We all have different ways of organizing and so you need to find what works best for you.  Today, I am going to share some tips on a system that works for me.  I have limited space and so this method helps me keep it out of sight and reach of my children while using my space efficiently.
Honestly, it took me a while to find a system that worked for me.  I tried using different systems and found that as my supplies grew the system I currently was using no longer worked for me.  In addition, prior to having children I would leave my card stock visible.  Well, that system quickly changed as I had little ones running around the house wanting to get into it.  After four years, I finally came up with a system for organizing card stock that works for me. 
 3 Main Things You Need
1. Two Filing Cabinets
2. Hanging Files (2 per color)
3. Labeled Tags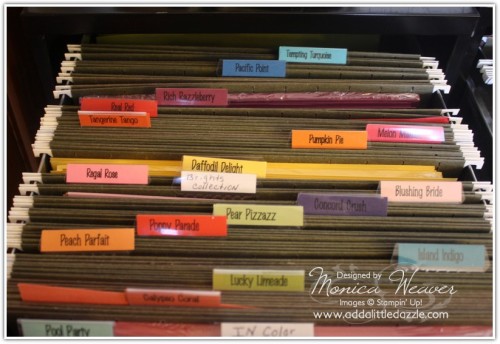 I decided to file my card stock by Stampin' Up! Color Families. The color families are: Brights, Subtle, Regal, and Neutral.  In addition, I added Stampin' Up! In-Colors.  To begin, I created a label for each card stock color and attached it to the hanging file folder.  and placed another hanging file folder right behind it. So, in the labeled hanging file folder I place my 8 1/2″ x 11″ sheets of card stock and the corresponding scraps in the hanging file folder directly behind it.  As you can see, I don't use a fancy method. Just a plain and simple while keeping it out of the reach of my two year old.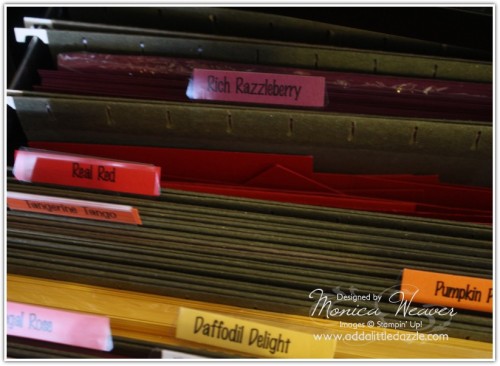 How Do You Organize Card Stock? 
Leave a Comment Below

If you have any questions you would like answered, please leave a question below and I will answer it in our "Question of the Week" segment here at Add a Little Dazzle.  Are you wondering what is in the 3rd filing cabinet?  Come back next week and I will share that secret with you.