Happy 4th of July!
Happy 4th of July!  We hope you enjoy your holiday weekend as we celebrate our Independence and Freedom.  Today we will enjoy a nice BBQ with friends and will enjoy the beautiful light show of fireworks our town puts on every year.  Our family loves fireworks and am sure we will enjoy them tonight.  Before we get busy celebrating, I would like to share with you a 4th of July creation.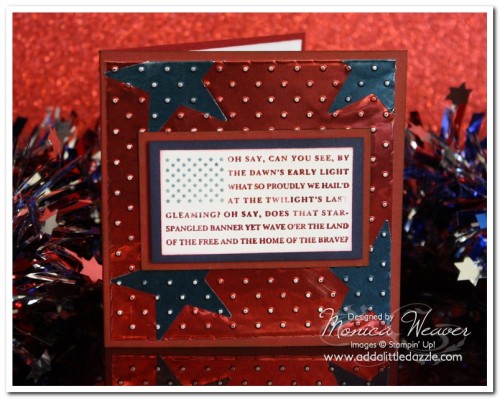 Happy 4th of July! Today, I would like to share a card I created  a few years ago. I love the simplicity of this card and the beauty of the message on the card.  I am so grateful for our freedom and would like to thank all those who serve to make this freedom possible. Thank you to the men and women who have served and are serving in the U.S. Military. We appreciate the many sacrifices you and your family have made in defense of freedom. God bless you and God bless America.  May we never take for granted the freedoms we have that so many around the world have never experienced.
Inlaid Embossing is a technique that has been around for a while and is a favorite among the rubber stamping and paper crafting community. This technique is very easy and the results produce a beautiful addition to your handmade card.  In order to create this look, you adhere a die cut or punched out image to a piece of card stock or in this case Add a Little Dazzle Craft Metal Sheets.  Then, you take the entire piece, place it inside an embossing folder, and run it through the Big Shot.  The basic idea of the technique is that when the entire piece is embossed the image appears to be embedded into the paper.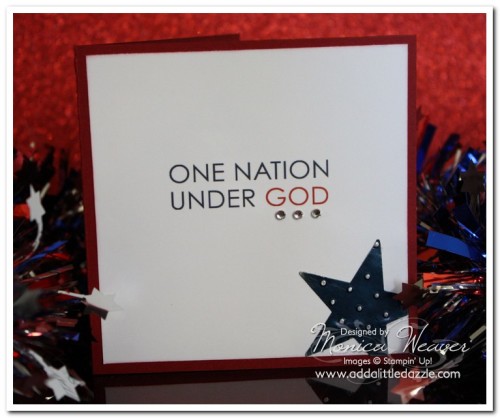 Are You Ready to Try This Technique?
Download Your Free PDF Tutorial and Learn How to Make This Card Today!

CLICK HERE

 to order Stampin' Up! product and 

CLICK HERE 

to order Add a Little Dazzle Craft Metal Sheets