Do You Have a Craft Metal Sampler Chart?
Do You Have a Craft Metal Sampler Chart? is our question of the week. Throughout the years, our readers have asked us for a  Metal Sheet Sampler Pack and a Metal Sheet Sampler Chart.  We are excited to tell you that we offer both at Add a Little Dazzle. Our readers love our metal sheet colors and want to get their hands on all our colors all at once.  In addition, they want to be able to organize them in a way that is easy for them to access.  We heard your request and have created the perfect organizational chart for you.  No more need to pull out all your sample colors. Our amazing chart will allow you to easily organize your metal sheets.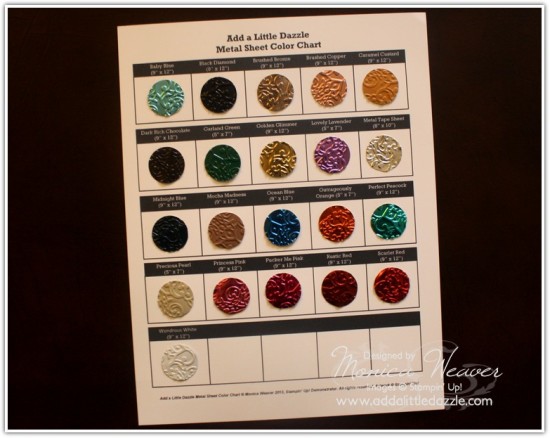 The Add a Little Dazzle Metal Sampler Chart is a wonderful tool that will allow you to have all your metal samples handy in one place. We know how difficult it can be to have to pull out all your metal sheets every time you want to create a project and so we came up with the perfect solution.  This chart lists all metal sheet colors Add a Little Dazzle carries along with the size each sheet measures.  Some of our sheets measure 5″ x 7″ and sometimes our customers get confused as to the measurements of our different metal sheets.  We have taken all the guess work and put together this wonderful chart for you.  This chart is the perfect resource tool to keep handy when you are designing for an upcoming project or class and you need to choose which metal sheet color to use and order in bulk.  
How to Create Your Craft Metal Sampler Chart
1.  CLICK HERE to access and print your sampler chart on an 8 1/2″ x 11″ piece of Whisper White Card Stock.
2.  Use the 1″ Circle punch to punch out a circle in each metal sheet color.
3.  Emboss each circle.
4.  Attach in the corresponding square with Hot Glue.
5. Place in a clear page protector.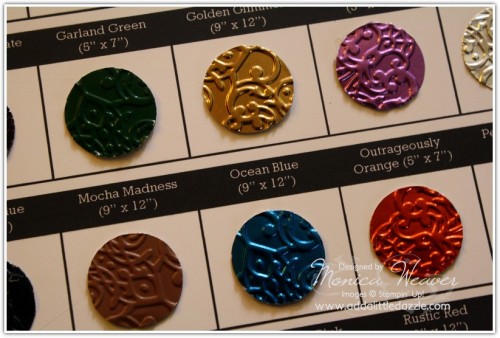 In order to get you started, we offer a great Add a Little Dazzle Craft Metal Sheet Sampler Pack.  This package includes one sheet of each of our colors.  This sampler pack is offered at a reduced price. You can purchase as many sampler packs as you like. This is a great way to get your hands on all our metal sheet colors economically.
CLICK HERE to Shop Our Boutique!