DIY Homemade Christmas Gift Ideas
DIY Homemade Christmas Gift Ideas.  The hustle and bustle of the holiday is officially underway. Many of you are now trying to return to everyday life as you get ready to go back to work tomorrow. Your To-Do List is long and you are now trying to find out how to simplify your life.  Join me today and the rest of this week as I share some beautiful Homemade Christmas Gift Ideas with our new product line.  
My Homemade Christmas Gifts
As I was preparing this post, I sat down and thought of all those items I bought to use in my Homemade Christmas Gift Ideas.  The problem is I didn't buy those items this year. I bought these items years ago.  Good intentions in mind but never got around to doing anything with them. This year I am determined to use them to make simple gifts.  
So, I have pulled out all those boxes of items and am busy going through my Homemade Christmas Gift Ideas List for gift ideas for teachers, husband's colleagues, church members, friends, etc. The first item I pulled out are these plain tins I purchased at Tuesday Morning. I love these tins and they are so inexpensive but perfect to fill with candy, gift certificates, jewelry, baked goods, and much more.  You can find them at Dollar Tree for a $1 each.
I created this simple Cookie Tin using the Snowflake Background Stencil, White Embossing Paste, and my Palette Knife.  After I embossed the snowflakes onto the tin, I poured Dazzling Diamonds over it, removed the excess, and let it dry.  Once it was completely dry, I removed the excess Dazzling Diamonds with a paintbrush.  This was so easy to make and really creates a beautiful look this holiday season. You can even use Metallic Silver and Metallic Gold Embossing Paste for a completely different look.  Honestly, you can't go wrong and people will be amazed that you made these.  For the project below, I used the same technique and used the Snowflake Antler Stencil also found in the Add a Little Dazzle Store.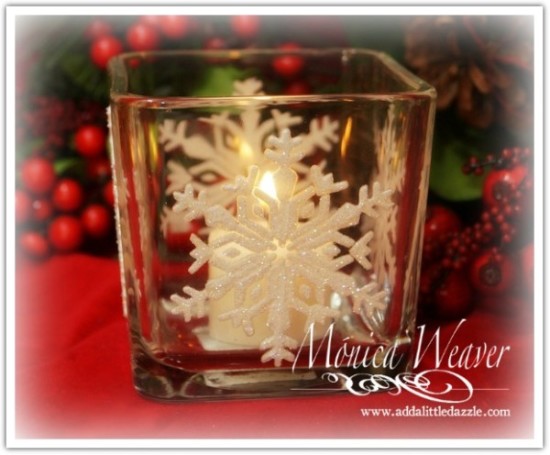 The following items have been added to the Add a Little Dazzle Store:
Stainless Steel Stencils: 13 Stencil Designs in a variety of sizes

Embossing Pastes

:

8 new Embossing Pastes in different colors and textures

Stenciling Tools:

4 new Stenciling Tools
Check Out Our New CD
 "Stencil Techniques for Card Making & Metal"

Is Yours for 
FREE
 With a Minimum $50 purchase (before S & H)
 

Your FREE CD will start shipping the week of December 15!
Are you wanting to learn new crafting techniques in 2014?  Are you wanting to take your crafting to a new level?  This CD will teach you how to incorporate stencils into your metal sheet crafting.  This CD, that incorporates craft metal sheets, can only be found here at Add a Little Dazzle.  We will teach you how to take the ordinary and turn it into the extraordinary.
The CD includes the following:
Instructional Video: How to Care for Your Stainless Steel Stencils
Instructional Videos: Stenciling 101 & Tips
Instructional Videos: Stenciling Techniques Incorporating Add a Little Dazzle Craft Metal Sheets
Tutorials: 5 Card Making Ideas (Includes Supply List, Measurements, and Step-by-Step Instructions)
Remember this card?  This card incorporates one of the techniques that will be taught in this new CD.  The technique showcased in this card is so easy to incorporate and will help you create beautiful handmade cards using Stencils and Add a Little Dazzle Craft Metal Sheets.  
When you purchase the Bare Trees Stencil, during Black Friday Weekend, you will receive a FREE PDF TUTORIAL with instructions for creating this beautiful card. You will be able to automatically download it!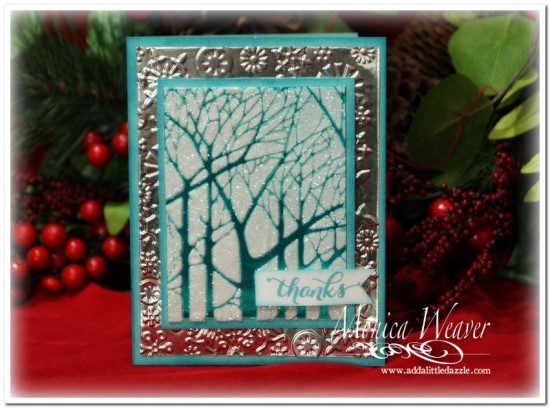 Get your FREE CD and tutorial this Black Friday Weekend ONLY!
  Purchase $50 products from the Add a Little Dazzle Store