DIY Crafts: Thanksgiving Party Favor
DIY Crafts: Thanksgiving Party Favor. I love Thanksgiving! Spending time with family and friends. As the hostess, I always want to make sure everything is perfect. I have to purchase the correct size turkey, choose delicious trimmings, create delicious desserts. There are so many details to put together and one that is easily forgotten is that of putting a small party favor together for your guests. Join me today as I teach you how to create a beautiful party favor that you can start creating right now.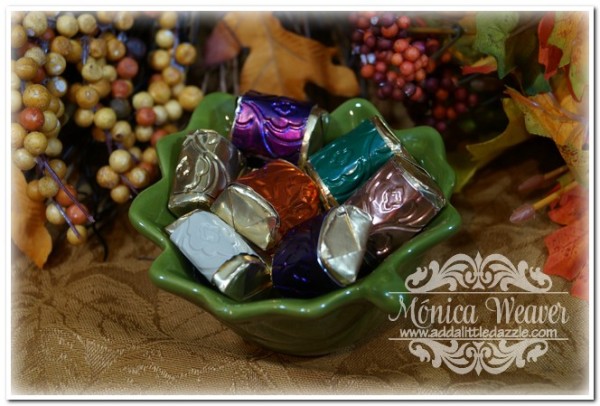 My Favorite Time of Year
I love fall and its beautiful colors! Whether spending time outside with the children, baking pumpkin cookies, or just enjoying the beautiful scenery it is my favorite time of year. It isn't cold and it isn't hot. It's perfect weather!
I grew up in Miami and so we really never got those cool days. It was more of spending it in shorts and flip flops. I always longed to see the leaves change colors and to feel the cool breeze blowing on my face.
Now, I live in Northern New Mexico. I live in the country and my house is surrounded by beautiful mountains. I love sitting outside enjoying the view and feeling cool breeze. I think I can live like this forever.
Time to Get Ready
The cooler weather is a gentle reminder that the holidays will be here soon and it's time to prepare. I have been busy coming up with fall projects to share with you. I am excited to share today's simple, yet elegant project. I think my favorite part of this project is how striking our new Polished Purple Craft Metal Sheet looks. It is absolutely gorgeous!
These Hershey's Chocolate Nugget Wraps add a beautiful touch of elegance to the candy. Then, you just place them in this small candy dish and you have a beautiful small gift. I found these little candy dishes at Family Dollar for a $1. I love how you can take an inexpensive candy dish, chocolate nuggets, and Add a Little Dazzle Craft Metal Sheets to create the perfect party favor/gift.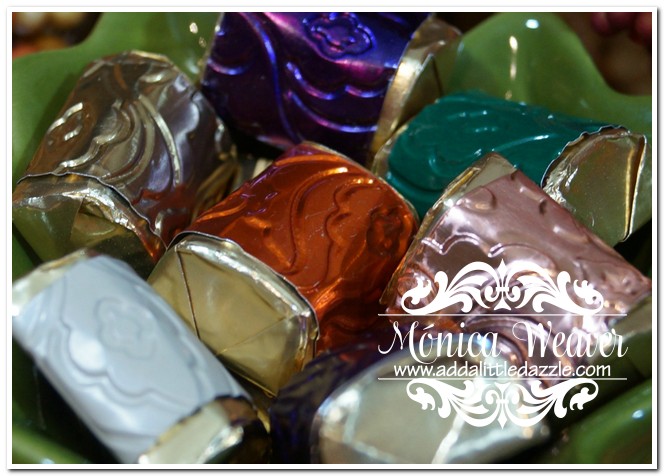 Quick & Easy
DIY Crafts don't have to be complicated! This project is the perfect example. You can put these together easily with a few, quick steps.
Cut Add a Little Dazzle Craft Metal Sheet into 1″ x 3″ strips

Place the strips in an embossing folder and run through the Big Shot

Place a small piece of Sticky Strip on one end of the strip.

Wrap the metal around the Chocolate Nugget and secure in the back.
Order Your Metal Sheets

HERE

!
What DIY Crafts Do You Like to Make for the Holidays?