DIY Crafts Review:January and February 2013
DIY Crafts Review: January and February 2013. This year was amazing for Add a Little Dazzle. We added new metal sheet colors to our store and even added a new product line.  We are so excited about the growth we experienced and are thankful to the Lord for all His Blessings.  As we get ready to say good-bye to 2013 and welcome 2014, I would like to take this time to review some of the favorite DIY Crafts shared during the year.  You will love what you see and will want to join us everyday as we prepare to ring in 2014.  We even have exciting news to share with you on New Year's Eve!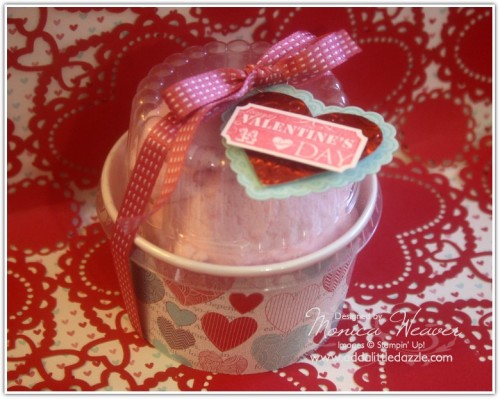 January 2013
As we started off January 2013, I decided to shake up things in Virtual Club and taught members how to make this delicious ice cream. The fun part about this project is that it looks like ice cream but it is actually a Homemade Sugar Scrub.
In addition, members received extra recipes for different flavored ice cream looking Sugar Scrubs.  It was so fun to come up with different flavored sugar scrubs that looked like ice cream.   This project definitely shook things up in Virtual Club and we added lots of new members to our club.

February 2013
This card definitely rocked in February as I shared how to create this beautiful background technique on my blog.  Then, I took it a step further in Virtual Club and taught members how to make a gift ensemble that was perfect for the cowboy in your life.  
The gift ensemble was a big hit in Virtual Club and I actually had members and non-members contacting me about making the entire ensemble for them as a a gift set.  This card and the accompanying gift is perfect for any occasion you need a simple, yet stunning masculine gift ensemble. 
Do You Love DIY Crafts?
Take Your Crafting to the Next Level in 2014

Join Our Exclusive Community of Stampers!