DIY Christmas Poinsettias Using Metal Sheets
DIY Christmas Poinsettias Using Metal Sheets is finally here!  Say good-bye to the day of ONLY using traditional Christmas colors and say hello to a beautiful array of colors. Colors that were NEVER used for Christmas are now popular. Join me today and discover beautiful poinsettias in an array of Add a Little Dazzle Craft Metal Sheet Colors.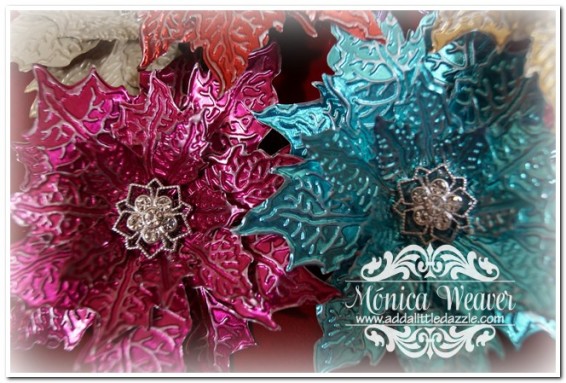 Last week I shared with you a beautiful metal embossed Poinsettia.  I received an overwhelming response to this post and everybody got busy ordering the die and Metal Sheets.  In addition, many asked if I could showcase Poinsettias using different Add a Little Dazzle Craft Metal Sheets.  I was pleasantly surprised to see how beautiful these Poinsettias look in different colors, and today I would like to share these beautiful flowers with you.  Whether you are looking to adding these to your homemade Christmas Cards, Home Decor, or ornaments these are the perfect addition that will be loved by all.  I am already busy coming up with lots of projects where this beautiful flower can be used.
Did you miss last week's video that taught you how to assemble the Poinsettia?  CLICK HERE and watch last week's video and make sure to watch today's video, too.  I promise you won't be disappointed and you will run to place your order today.
 CLICK HERE 
to order Add a Little Dazzle Craft Metal Sheets
Need To Order Large Amounts?  Check out our Bulk Buy Program
HERE