DIY Christmas Ornaments in Non-Traditional Colors. Using non-traditional Christmas colors is becoming more popular. The days of ONLY using red and green are long gone.  Whether it is ornaments, lights, cookies, decorations, or centerpieces, Christmas decorating has changed.  Who says red and green can be the only colors used during Christmas? It's time to grab your favorite colors and decorate your home with non-traditional Christmas colors!

Childhood Christmas Tree
Christmas is always a time of reflection for me.  I love remembering the special times I spent as a child.  Our Christmases were nothing fancy.  My mother was a single mom raising two children.  Even though we didn't have a lot of money she always found a way to make Christmas special for us.  Every year she would pull out our artificial tree and take on the task of adding the lights.  My brother and I hated doing that and so we added the hooks on the ornaments.  Once the tree was lit,  we got busy decorating the tree.  Our tree didn't have a theme.  It was a mixture of DIY Christmas ornaments, dollar store ornaments, and the traditional red and gold Christmas balls.
Our Family Tradition
Although I now have a family of my own, I can't seem to get away from the traditional red and gold Christmas balls.  I am an old fashioned kind of person so the idea of going out of my comfort zone is not something I enjoy.  I have to admit I have wanted to be adventurous, but my dear hubby likes the traditional look.
Our tree is nothing fancy but it is filled with all our children's DIY Christmas ornaments along with the ones we have created as a family. They get so excited every year when we pull out all the ornaments and they remember when they made it.   My hubby says that one day the kids will be gone and then we can venture outside our traditional Christmas colors.  For now, he wants to create a tradition they can remember and part of it is the red Christmas glitter ball ornaments we made as a family.  
The truth is that it doesn't matter whether you use traditional or non-traditional colors in your DIY Christmas Decor and Ornaments.  The most important things are the memories you create with the ones you love.  Isn't that what all of us remember about our childhood Christmases?  If you are adventurous, then go ahead and bring out every color in the rainbow.  If not, stick with the traditional look.  Just remember the memories are what last way beyond the Christmas trends. 

Metal Embossed Poinsettia Ornament
Whether you are a traditional or non-traditional kind of person, today's Metal Embossed Poinsettia Ornament will inspire both.  I have taken the traditional poinsettia and used a non-traditional color to create a beautiful ornament.   I created this ornament using Pucker Me Pink.  I combined it with some Precious Pearl Metal Sheet, Garland Green Metal Sheet,  and some fun Stampin' Up! product to bring it altogether. I have also created a box for it and will share it tomorrow.  For now, enjoy today's video and learn how to create this beautiful Christmas Ornament.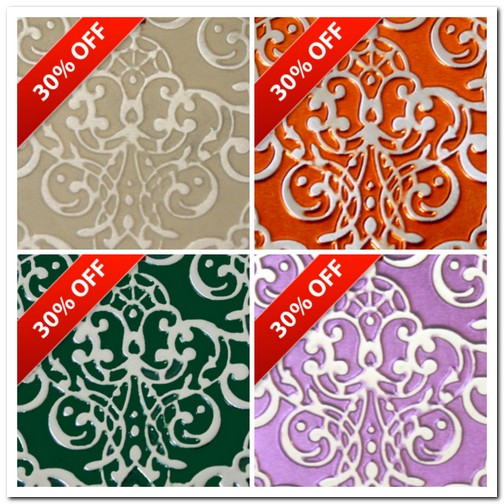 Labor Day Sale Extended
We have decided to extend our Labor Day Sale.  We are offering 30% off on select colors that are purchased in Bulk.  Normally, these packs cost $37.50 but for a limited time you can purchase them for $26.00.  Precious Pearl, Lovely Lavender, Garland Green, and Outrageously Orange are available at 30% off.   You can purchase as many packs as you want!  This is a limited time offer! Order today!
In addition, for every $50 increment order you place (before S & H) will receive a FREE GIFT valued at $26.95.  If you purchase $100 (before S & H), you will receive 2 gifts.  The more you purchase in $50 increments, the more gifts you will receive.  If you place an order and then decide to add more, we will combine your orders and refund the difference.
Enter For a Chance to Win a Special Prize by Answering Today's Question
Is Your DIY Christmas Decorating in Traditional or Non-Traditional Colors?