DIY Christmas Candles
DIY Christmas Candles. During this time of year, I receive numerous emails asking me questions about candles, how to decorate them with Add a Little Dazzle Craft Metal Sheets, and safety issues of wrapping metal around a candle.  Every year we look for fresh, new ideas to help you create dazzling candles and this year is no exception. There are so many questions I can answer about how to make a Christmas Candle, but today I am going to address a common problem ALL of us run into when purchasing candles COLOR!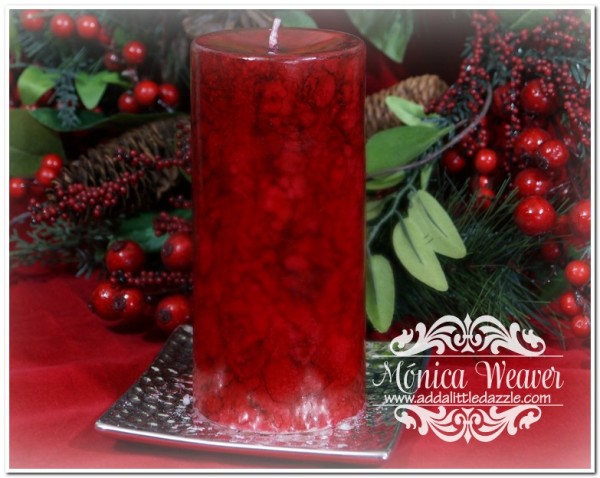 You read that right!  The first thing we are going to address about creating a Christmas Candle is how to create it in the color of YOUR CHOICE. One of the biggest frustrations I find when purchasing candles is that I can't find them in the color I need.  I usually have to run all around town just to find something that is close to what I am looking for.  Then, when I look at the price tag I jump out of my skin.  Colored candles are quite expensive and can turn an inexpensive gift into one that breaks the bank.  
I was on a quest to find a way to have colored candles without breaking the bank.  I am so excited to share with you that I found the solution! You will be surprised how easy it is to do this; you will run to get the supplies needed to make your own Christmas Candles this year.  You will be SO EXCITED about this discovery that you will NEVER buy a colored candle from a store again.  
Today, we will just address the coloring of candles but stay tuned because I am also going to teach you the following in the days and weeks ahead:
1. How to Have a Dripless Candle
2. How to Scent Your Own Candle
3.  Decorative Ideas for Your Christmas Candles
4. How to Create Different Textures on Candles