Dazzling Diva Challenge #60
Dazzling Diva Challenge #60. Can you believe this is the last Wednesday of January 2015?  I thought we were just welcoming 2015 yesterday? Well, we are getting ready to kick off February the month of love.  When I think of February, I think of love, hearts, candy, chocolate, and flowers. Today, we have a beautiful inspirational photo to help inspire you as we enter February.  I love this image and love what the design team has done this week. Wait until you see their creations!! You are going to be blown away!!!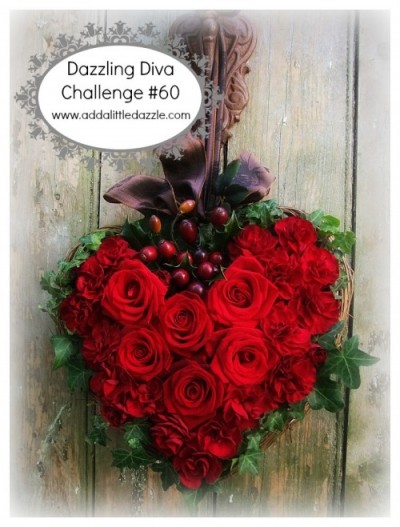 Dazzling Diva Challenge #60 is a Technique Challenge or Anything Goes.  This week we are focusing on making flowers.   Add a Little Dazzle Craft Metal Sheets is an excellent medium with which to create flowers. There are so many ways you can make flowers using craft metal sheets and today we are going to share some beautiful flowers in our creations.
Find a way to incorporate FLOWERS into your card– paper or metal.  Now, if you are chosen as the WINNER and you used Add a Little Dazzle Craft Metal Sheets in your creation, your prize package will INCREASE by $5 and I will add a BONUS PRIZE. 
There are many creative ways to add flowers to your creation. Check out our design team's creations and get inspired.  Scroll all the way to be bottom, visit their blog, check out their creations, and leave them some love.
Mr. and Mrs.
As we approach February, the invites for wedding start arriving. Whether it be a Valentine's Day wedding or later they are going to start coming soon as brides prepare for the BIG DAY.   This beautiful card is easy to mass produce and allows you to be ready for any occasion. All you need to do is change out the sentiment and you can give this card for a birthday, Thinking of You, Congratulations, and much more.
To create this beautiful flower, I used Scarlet Red Craft Metal Sheets and die cut three of them.  Then, I simply cut in a little further into the pedals, and embossed the flowers.  Then, I overlapped the flowers, placed them on a foam mat, and ran a metallic button through the center.  Then, I simply curved up the petals to create a beautiful flower.
In addition, I die cut some leaves from Garland Green Craft Metal Sheets to create a beautiful finished look.  I wanted to add a little more shine to the card front so I also added some Black Diamond Craft Metal Sheet to the lower section of the card and created a dazzling and simple card you can create in less than 10 minutes.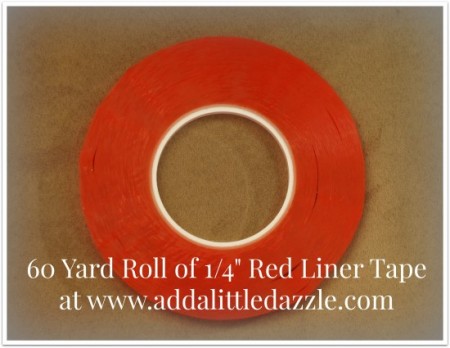 Most Important Thing to Remember
When working with Add a Little Dazzle Craft Metal Sheets, it is important to remember that the best adhesive to use is Red Liner Tape.  This adhesive will ensure that the craft metal sheet adheres to your project and will not come off.
We carry a 60 yard roll in our boutique at an absolutely AMAZING PRICE. No where else can you find Red Liner Tape in 60 YARD ROLLS. The average price of a 10 yard roll is $6.95.  If you bought 6 rolls (equivalent to one-60 yard roll from Add a Little Dazzle) you would pay $41.70.
 Purchase our 60 yard roll and save $24.75
Your Turn!
So pull out your crafting supplies and make a project using our Technique Challenge or Anything Goes. Then, share it with us by linking to the bottom of the post.
You have until Tuesday, February 3rd to enter.  The winner will receive a $15 Metal Sheet Prize Pack. If you use Add a Little Dazzle Craft Metal Sheets in your project you will not only receive an additional $5 in product but a BONUS PRIZE.
Dazzling Diva Challenge #59 Winner –
Jacke
Enter Challenge #60 Below!