Dazzling Diva Challenge #44
Dazzling Diva Challege #44.  Last week was an AMAZING week. Not only did we have a great blog hop with Stampendous, but we also had lots of entries in our Dazzling Diva Challenge.  We loved all of the creations and were inspired by all the great crafters out there.  We have another inspiring challenge this week and can't wait to see what you come up with this week. So, to get started lets get inspired by the Dazzling Diva Design Team's creations and then get busy crafting so we can see yours.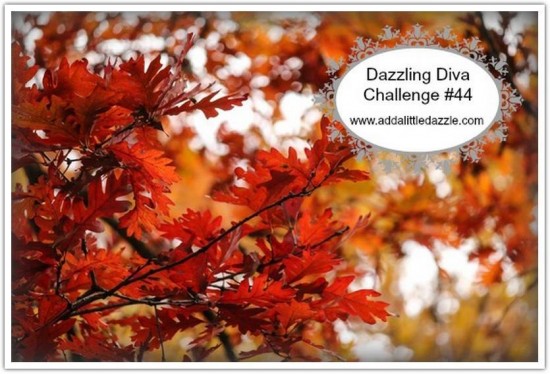 This week Dazzling Diva Challenge #44 is all about Fall Colors or Anything Goes.  With cooler days filling the air we are focusing on beautiful fall colors. Here in Northern New Mexico the leaves are starting to slowly change color and soon will look like this beautiful picture above.  
So pull out your fall stamps, colors, and make a card. Do you have Add a Little Dazzle Craft Metal Sheets?  Pull them out and show us how you use them.  Don't have any but are ready to get started using Add a Little Dazzle Craft Metal Sheets?  Purchase them today and get them shipped right away with enough time to create for the challenge.
Then, share your creation with us by linking at the bottom of the post.  You have until Tuesday, September 30th to enter.  The winner will receive a $15 Gift Certificate to our boutique.
Who Has Made A Difference In Your Life?
Today's picture was the perfect one to pull out a tree embossing folder I purchased last year.  Not only was it fitting for Dazzling Diva Challenge #44 but for a special person I need a card to let them know how much they are appreciated. Do you have somebody in your life right now that goes that extra mile to do something for you?
If you have children, you can relate to how trying the school years can be some days. This year has started off as a challenging one for my son. From the first day, Ms. Salazar made my husband and I feel welcome in the classroom and has welcomed our feedback in regards to our son's education. Honestly, she is going the extra mile to help us.  Not only has she been amazing with us but she has helped my son feel more confident as a student and has helped build him in ways far beyond what she could ever imagine.
One night, I was really frustrated during homework time and I saw that she was on Facebook.  I decided to friend her and pray she would answer. Within minutes she accepted me as a friend and proceeded to personally call me at home a few minutes later.  I could not believe it when I answered the phone and it was her on the other end.
As the year has progressed, we have continued to make weekly visits to the school and on my last visit the teacher did something I never expected. She handed me her business card with her home phone number.  She told me if I needed her to just call her anytime.  I couldn't believe that she would do this as I know she doesn't have to answer my call after hours. To know that she cares this much is beyond words.
To say that I appreciate her is not enough. Today, I created this card for her and will be sending it with my son to let her know how much we appreciate everything she is doing to help us help our son.  She is a wonderful blessing in our life and we are thankful for her.  I pray that God will bless her for being a blessing in my son's life.
Who Has Made a Difference In Your Life?  Leave Me a Comment and Share.
SPECIAL ANNOUNCEMENT COMING TOMORROW!
I am really excited to share with you that I have a special announcement to make tomorrow.  I have NEVER done this before and I will NEVER do this again.  Make sure you stay tuned as it will come and go very fast and you must be watching out for it or you will miss it.
In addition, next week we have another week long blog hop with an AMAZING stamp company and it's also the beginning of a very special annual tradition I host here at Add a Little Dazzle during the holiday season. This is a special yearly event that is ONLY available for my newsletter subscribers.  Get on my mailing list TODAY so you are in from DAY 1.  It's free, but you must be on my mailing list.  
Just look for the subscribe button on the upper right hand corner and join others who will enjoy the same benefits of being on my mailing list.
Dazzling Diva Challenge #43 Winner – Bethie J
Enter Challenge #44 Below!