Dazzling Diva Challenge #34
Dazzling Diva Challenge #34.   Do you have favorite Christmas theme?  Do you decorate your Christmas tree and home with that theme?  I have an absolute favorite that always shows up on my Christmas Cards.  Although I love this theme, I am always looking for new ways in which to incorporate it and today there are so many beautiful ideas showcasing my all time favorite Christmas theme.  Join me today and check out the Dazzling Diva Design Team's beautiful inspirational photos.
This week Dazzling Diva Challenge #34 is focusing on Snowflakes or Anything Goes.  I love snowflakes and whenever I get a chance to use theme for my holiday decoration or cards I do.  I love the sparkle and glimmer of snowflakes and think it adds a beautiful festive look for the holidays.
This week our designers have created some amazing Christmas Cards using Snowflakes.  In addition, we have focused on using Baby Blue  and Wondrous White Craft Metal Sheets in our cards.  These two colors make beautiful cards.



Bonus Offer
We are offering a limited time Add a Little Dazzle Craft Metal Sheet Week 3 Package.  This package includes 6 sheets of Baby Blue Craft Metal Sheet and 6 sheets of Wondrous White Craft Metal Sheet.  
In addition, you will also receive additional pdf tutorials that will inspire you with more Christmas Ideas.  As soon as you place your order, you will receive instant access.  Place your craft metal sheet order HERE and receive your card making idea tutorials!
Dazzling Diva Challenge #34 Inspirational Photo or Anything Goes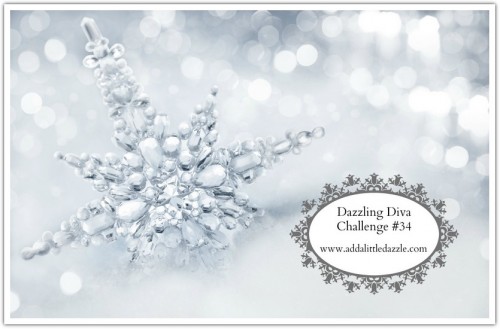 Enter for a Chance to Win a $15 Gift Certificate from Our Boutique
Challenge #33 Winner is Kim's Cards
Please email me at monica@addalittledazzle.com
Order Craft Metal Sheet in our Boutique
Are You Ready to Take Your Crafting to the Next Level?
If so, join over 5,000 subscribers who receive my FREE NEWSLETTER with exclusive content and crafting tips twice a month and get a FREE COPY of my tutorial, How to Make Metal Embossed Candles. Just enter your name and email.