Craft Metal Sheets Contest Winner Is…
Craft Metal Sheets Contest Winner Is… We are so excited to see the number of people who participated in our contest.  We are amazed at the creativity all have and the amazing names you came up with.  It wasn't an easy decision, but we have picked a winner. We are so excited and know you will be too.  Join us finding out the name for our newest metal sheet.
It Was Tough
We were truly amazed at the number of submissions we received.  There were so many amazing names! We went through all of them and had to narrow it down.  Honestly, we never imagined we would receive so many submissions.  They were coming in faster than we could process them.  After going back and forth for a long time, we finally chose a name.   The official name of our new metal sheet color is "Polished Purple".  Congratulations to Bernadette for winning!  Bernadette, please email us your mailing address and we will send you 5 Polished Purple Craft Metal Sheets along with a special gift valued at $26.95
 

It's Official
We are excited to announce that you can officially start purchasing Polished Purple Craft Metal Sheets NOW!  You can purchase them in individual sheets or bulk.  What is the difference? When you purchase individual sheets, you can purchase as many as you need for $2.25 each.  If you purchase in Bulk, you will receive a package with 25 craft metal sheets of the same color and you ONLY pay $1.84 per sheet. Whether you need a large amount of the same color for your personal use or class needs, this is a perfect option.   This is a great, cost effective way to purchase Add a Little Dazzle Craft Metal Sheets.
Labor Day Weekend Sale
We are offering 30% off on select colors that are purchased in Bulk.  Normally, these packs cost $37.50 but for a limited time you can purchase them for $26.00.  Precious Pearl, Lovely Lavender, Garland Green, and Outrageously Orange are available at 30% off.   You can purchase as many packs as you want!  This is a limited time offer!  Order today! 
In addition, for every $50 increment order you place (before S & H) will receive a FREE GIFT valued at $26.95.  If you purchase $100 (before S & H), you will receive 2 gifts.  The more you purchase in $50 increments, the more gifts you will receive.  If you place an order and then decide to add more, we will combine your orders and refund the difference.  
Taos, New Mexico Residents
If you live in Taos, you qualify for Free Shipping on all your orders.   All you need to do is enter the code FREE SHIPPING in the coupon code section of the shopping cart.  Once your order is processed, we will contact you via phone and schedule a time for you to pick up your order.  It's that easy!  Taos Residents please note that this code is permanently in place for you to use at any time.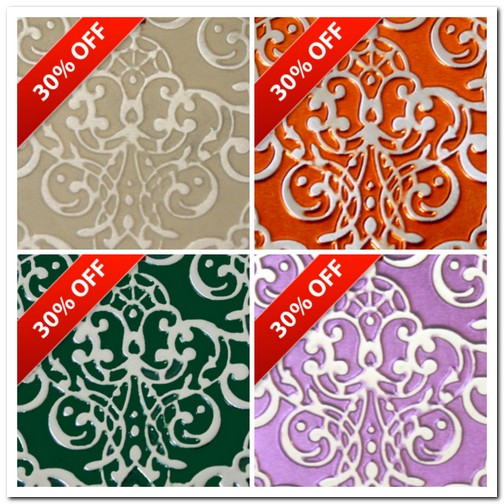 Craft Idea Inspiration
Starting Monday, we will offer you daily inspiration using the following craft metal sheet colors: Polished Purple, Precious Pearl, Lovely Lavender, Outrageously Orange, and Garland Green.  We will also showcase projects using the craft metal sheet colors we just added to our inventory: Brushed Bronze, Golden Glimmer, Black Diamond, and Scarlet Red.  Whether you are looking for ideas for your own crafting or to teach classes, we have you covered and are confident you will love the craft idea projects we will be sharing.
 

Place Your Craft Metal Sheet Order Now!