All Occasions Card: Swallowtail Stamp Set
All Occasions Card: Swallowtail Stamp Set is a beautiful card we are sharing with you today. I have been having so much fun playing around with this new stamp set found in the Spring Catalog.  It is amazing and I have so many different projects I am going to share with you. Here at Add a Little Dazzle we have taken the ordinary and turned it into the extraordinary by giving you a completely different twist to the Swallowtail Stamp Set. These projects can only be seen here.  Join us this entire week and weekend as we showcase all kinds of exciting projects for you using this amazing stamp set.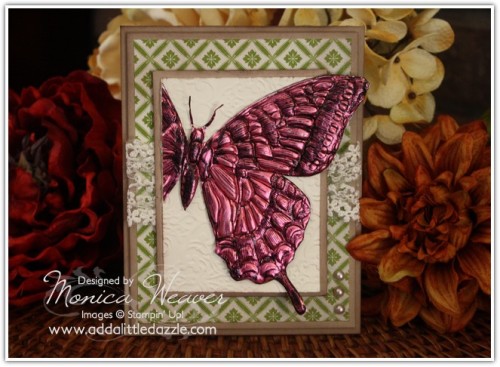 The Swallowtail Stamp Set allows you to create beautiful cards for all occasions.  Whether you need a Thinking of You, Miss You, Happy Birthday, Congratulations, etc. this card is perfect for all these occasions.  As you can see, the focal image of this card is the Swallowtail Stamp Set and so I didn't add a sentiment on front as I felt it would make the card lose its simplicity and elegance. Instead, my recommendation is that you place the greeting on the inside of the card.   This card is truly a masterpiece for you to create for that special person. 
This beautiful butterfly is hand embossed by me and it can be hand embossed by YOU. The detail found in this butterfly is stunning and truly a work of art.  Your friends and family will be shocked when they find out you made this card.  This is no ordinary card this is an EXTRAORDINARY CARD.  I have included a free tutorial below to walk you through the process of assembling this card. If you want to learn how to make the hand embossed butterfly, keep reading to find out how you can learn how to make this masterpiece. 
Want to Learn How to Create this Beautiful Hand Embossed Butterfly?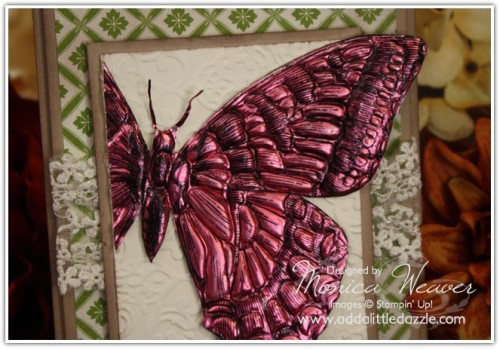 In the March 2013 Edition of the Add a Little Dazzle Virtual Club, our members will learn how to create this beautiful hand embossed butterfly. Members will learn how to use this image on a picture frame, card, and an exclusive spa product.
This is an exclusive project for our Virtual Club Members. Every month our members receive 2-3 exclusive projects in the comfort of their home. Projects showcased can be used for classes or your personal use.
Join Virtual Club HERE!