Add a Little Dazzle/Stampendous Blog Hop Day #3 and Challenge #43
Add a Little Dazzle and Stampendous Blog Hop Day #3 and Challege #43.  Are you ready for more exciting inspiration? Today we have a special treat for you at Add a Little Dazzle.  Normally, this is our weekly challenge day and so to keep with tradition we are doing the Stampendous Blog Hop and Dazzling Diva Challenge #43.  Join us today, be inspired, and show off your beautiful creations this week. Let's get started!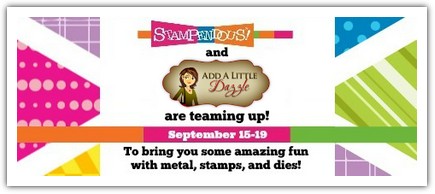 Today is Day 3 of the  Add a Little Dazzle and Stampendous Blog Hop!  In addition, it is also Dazzling Diva Challenge #43. 
This week Dazzling Diva Challenge #43 is all about Home for the Holidays or Anything Goes.  The holidays are soon approaching and we are all busy creating and so this week to keep in line with the Stampendous blog hop the Dazzling Diva Design Team has decided to focus on the Holidays.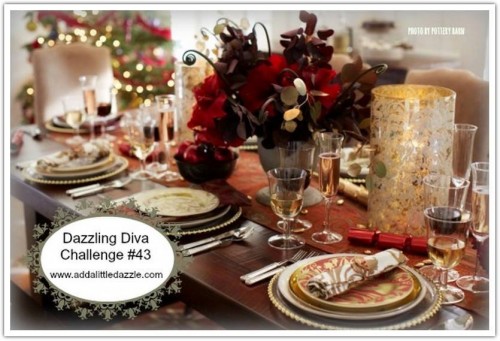 So pull out your holiday stamps, make a card, and share it with us by linking to the bottom of the post.  You have until Tuesday, September 23rd to enter.  The winner will receive a $15 Gift Certificate to our boutique.
Different Traditions
All of us have such different backgrounds and celebrate the holidays in such different ways.  As a child, I grew up in a hispanic home that resided in the United States. Although we lived here in the United States and embraced many of the ways that the holidays were celebrated here, we also kept many of our traditions from Colombia.
During Thanksgiving, my family prepared the traditional turkey but instead of mashed potatoes we had arroz con frijoles, arepas, and apenadas to name a few. Pumpkin Pie was definitely not on our list of items around the table.  Arequipe was and we enjoyed these foods greatly while celebrating this american holiday.  We were thankful to God for the great opportunity to be in this country and celebrated it while keeping some of our own customs.
Embracing the Difference
Now that I have a family of my own it is even more different. As you can tell from my last name I married a wonderful american man.  I keep the hispanic part in our holiday celebrations, but I also embrace my husband's american culture.  Our home is very culturally diverse and you never know what we will be eating, watching, or listening to as we switch back and forth between English and Spanish all the time. 
Our holiday table has a great variety of foods that embrace both cultures. We usually do an american style Thanksgiving, a Hispanic style Christmas, and a Spanglish New Year's Eve. It really keeps things interesting around our home and friends never know what they will be eating at our home. 
One of the things I have learned to like is pumpkin. This wasn't one of these staple foods in my home growing up.  My husband loves pumpkin and after 11 years of marriage I have grown to love it, too.  I have learned how to prepare many of his favorite foods and recently learned how to make Pumpkin Butter. I have to tell you I wasn't sure if I would like it but after tasting it I fell in love with it.
So, for this project I have embraced my husband's culture and created this homemade gift of Pumpkin Butter and placed it in this jar that I decorated using Jumbo Leaves Stamp Set.  I stamped the leaf onto a piece of Dark Rich Chocolate Craft Metal Sheet, poured Gold Embossing Powder over it, and set it with the Heat Tool. Then, I took the coordinating Leaf Die Cut Set and die cut the leaf.  This time I added some interesting color to my leaf with Copper Inka Gold.   Then, I created a beautiful metal embossed circle with the  Leaf Background Stamp Set for the jar lid.
What Are Your Holiday Traditions?  Leave Me a Comment and Tell Me.
Would You Like to Learn How to Make the Projects Featured In This Blog Hop?
Next week I will have an instructional videos teaching you techniques showcased this week. Meanwhile, sign up for my newsletter and learn how to make a beautiful metal embossed wrap for candles.
In addition, sign up for email updates.  My newsletter will be released tomorrow at 1 pm Mountain Standard Time and I have exclusive content that is ONLY for newsletter subscribers.  Be the first to know about what is going on here at Add a Little Dazzle.
Prize Alert! 
Enter for a Chance to Win a Prize Pack!  Be sure to stop by and comment on each of the Design Team Blogs for a chance to win 1 of 6 prize packs from both companies! You have until Sunday, September, 21st to enter. The winners will be announced on both company blogs the following week.  You must leave a comment on all blogs.
Be Sure to Visit Each of the Designers on This Blog Hop!
Stampendous
Asia King
                                       Add a Little Dazzle << You Are HERE
Jamie Martin
Lee-Anne Cross
Martha Lucia Gomez
Kate Capper
Lydia Brooke-Evans
Graciela Chavez
Keren Baker
Vicki Dutcher
Cathy Parlitsis
 Did You Miss the Previous Day of the Blog Hop?
Here is Monday

 

and 

Tuesday

Stampendous and Add a Little Dazzle Blog Hop Special!
During this week's blog hop, we are offering a special pack of Add a Little Dazzle Craft Metal Sheets.  This pack includes metal sheet colors that the Dazzling Diva Design Team will be using in their projects throughout the week. In addition, you will receive one pack of 25 pillow boxes in either large gift size or party favor size.  
Order your Stampendous Blog Hop Pack today and receive EXCLUSIVE PDF TUTORIALS using Stampendous Products and Add a Little Dazzle Craft Metal Sheets. This offer is ONLY available this week.  Order your Stampendous Blog Hop Pack today!
Enter Challenge #43 Below!