2012 Embossed Metal Desktop Photo Calendar
The 2012 Embossed Metal Desktop Photo Calendar is the perfect item for you to create as we get ready to start a new year.  As the New Year begins, a common New Year's Resolution is to get organized. One of the ways many of us get organized is through the use of a calendar and a planner. Today, I would like to share  a calendar I created that will help you start off on the right track of getting organized with your time.
I absolutely love the 2012 Embossed Metal Desktop Photo Calendar.  It is elegant and beautifully displays interchangeable pictures all year around.  I took the acrylic calendar concept and gave it an Add a Little Dazzle twist by adding craft metal sheets and creating a magnetic piece. This desktop calendar was created using the beautiful Stampin' Up! Texturz Plates, Early Espresso Card stock, and Metallic Brads accompanied by Add a Little Dazzle Brushed Bronze Craft Metal Sheets.  All these items combined created a stunning photo calendar.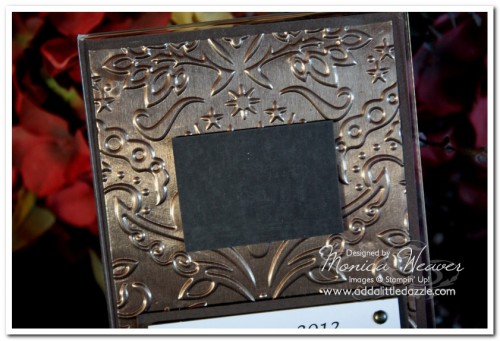 Are you wondering about the magnetic piece and interchangeable pictures?  I added this feature by taking 12 pictures of my family and matting them on Early Espresso Card stock.  Afterwards, I attached a Magnetic Sheet piece to the back of each picture and to the empty acrylic portion of the desktop photo calendar. Throughout the year, I can take any of the 12 pictures and change them. I can even use the pictures as magnets.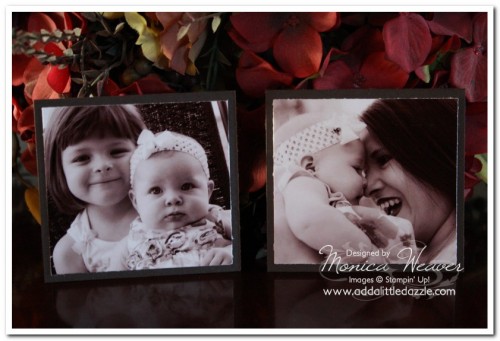 Here are some more samples of the magnetic photo pieces I created for the desktop photo calendar. I absolutely love these and am going to make one for my mother, mother-in-law, and father so they can have pictures of their grandchildren all year long.
 What a Great Project to Kick off the New Year!!
Great class to introduce your customers to the world of Add a Little Dazzle Craft Metal Sheets


Make on

e of these for your family to take home with them after the holidays


Make a photo calendar for yourself
CLICK HERE to purchase Stampin' Up! product and

CLICK HERE

to purchase Add a Little Dazzle Craft Metal Sheets