Stampin' Up! Fabric Pin Cushion
Stampin' Up! Fabric Framed Pin Cushion is our featured project today at Add a Little Dazzle.  When I think of a pin cushion, I quickly remember that little tomato I saw as a child.  Every time my mother was working on a sewing project she had one by her sewing machine or on her wrist.  I always thought that little tomato was so ugly, but that was the way to hold your pins.  Times have changed and many of us have gotten away from that ugly tomato to much more fashionable pin cushions. Today I am going to teach you how to create a modern version of a pin cushion using Stampin' Up! Fabric and Add a Little Dazzle Craft Metal Sheets.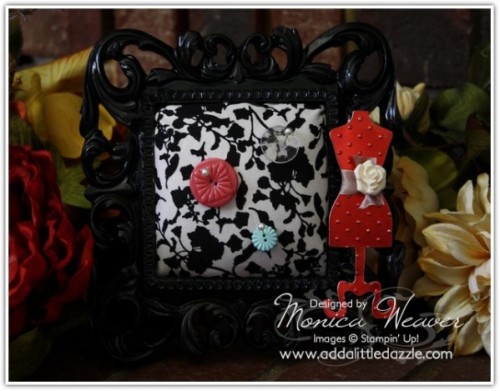 Pin cushions are a staple item in the home of most women.  It doesn't matter if you are an experienced seamstress or just take care of the basic buttons and hems here and there.  Throughout the years, the pin cushion has evolved.  No longer are we limited to the ugly tomato but have many more fashionable options.  Nowadays you can create a pin cushion that is more reflective of your personality.  Stampin' Up! Fabric comes in a  wide array of colors and patterns which makes it easy to create a beautiful pin cushion.    
Items Needed to Create a Pin Cushion
1.Picture Frame
2. Filling
3. Stampin' Up! Fabric
4. Hot Glue Gun
5. Dress Up Framelits, Perfect Polka Dot Impressions Folder, and Big Shot
6.  Add a Little Dazzle Craft Metal Sheets (Scarlet Red)
7. Magnetic Sheets
If you find a picture frame you like, but it doesn't coordinate with your Stampin' Up! Fabric then take out some spray paint and paint it in your color of choice.  I gave my frame a fresh coat of black paint all over and I love the look.  In addition, I wanted to add a more seamstress look without looking motherly and so I pulled out the Stampin' Up! Dress Up Framelits and created a beautiful piece with Add a Little Dazzle Craft Metal Sheets.  I actually used Scarlet Red Craft Metal Sheet, but you can choose whatever color you like. We have 20 Craft Metal Sheet Colors to choose from. If you can't make up your mind, purchase our Sampler Pack and get a glimpse at all our beautiful metal sheet colors.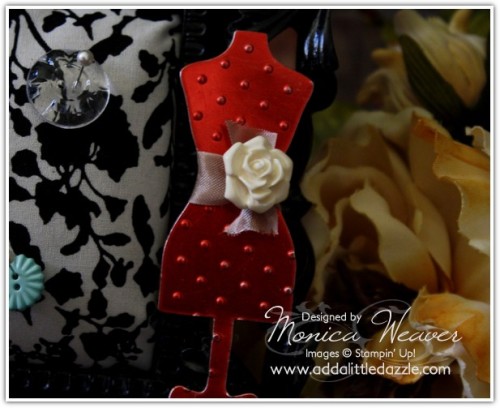 Learn How to Make a Pin Cushion Using Stampin' Up! Fabric!

 

CLICK HERE
to purchase Stampin' Up! product and
CLICK HERE
to purchase Add a Little Dazzle Craft Metal Sheets and Tools