Brayered Embossing Techniques
Brayered Embossing Techniques is the focus of our card today at Add a Little Dazzle.  This technique is so easy to incorporate and yet creates a stunning look that will amaze people.  This is a common technique, but when you take it and incorporate it with Add a Little Dazzle Craft Metal Sheets you create an EXTRAordinary card.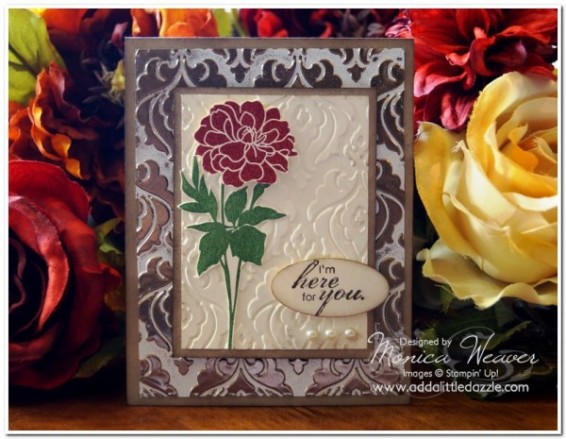 Brayered Embossing Techniques is very easy to create.  All you need is a brayer, embossing folder, ink, and Add a Little Dazzle Craft Metal Sheets.  Depending on which kind of ink you use, you will need a few extra tools.  Metal Sheets are a non-porous surface and so having ink that wasn't created for use on non-porous surfaces can become an issue. Great news is that if you learn some basic techniques you will be able to stamp on metal sheets just like you do on card stock.  Join us today as we teach you how to incorporate this amazing embossing technique into your crafting with Add a Little Dazzle Metal Sheets.  In addition, make sure to download your FREE pdf tutorial with step-by-step instructions for recreating this beautiful card.

Do You Love Creating Beautiful Out-of-the-Box Projects?
We invite you to join the Add a Little Dazzle Virtual Club.  Every month our members receive three exclusive projects  (over-the-top) that will teach them how to create beautiful projects.  Our members are excited and love what they learn each month. In addition, members have access to all their subscription months in ONE PLACE. No need to search through tons of emails.  Just log-in to our password protected website and all YOUR EXCLUSIVE PROJECTS are accessible in one place. 
START YOUR MEMBERSHIP TODAY AND RECEIVE INSTANT ACCESS NOW!