Dazzling Diva Challenge #56
Dazzling Diva Challenge #56.  Can you believe that we are one week away from Christmas Eve?  This year and holiday season has flown by quickly.  It has been an AMAZING YEAR here at Add a Little Dazzle and we thank you for being part of us.  We look forward to an exciting 2015 with lots of amazing new challenges, blog hops, and inspirational projects to share with you.  Join me today as we share our last challenge of 2014. You will have plenty of time to participate in this one!!!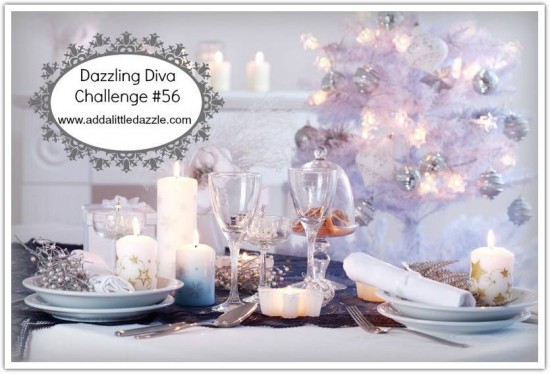 This week Dazzling Diva Challenge #56 is an Inspirational Photo or Anything Goes.  I love this beautiful table setting and the tranquility in the image. There are so many beautiful pieces to grab inspiration from and it's all in what your eye is drawn towards in the picture. There is not right or wrong so have fun with it and play along.  
Make sure to scroll down all the way to the end of this post, visit the design team's blog, and make sure to leave them some love. We have some amazing projects to share with you today!
Your Turn!
So pull out your crafting supplies and make a project using our Inspirational Photo or Anything Goes.Then, share it with us by linking to the bottom of the post.  You have until Tuesday, January 6th to enter.  The winner will receive a $15 Metal Sheet Prize Pack. Find out the Winner of Challenge #55 at the end of this post.

Last Minute Gifts 
Are you busy working on those last minute gifts? Are you still wondering what to make for the teacher? Friend? Colleague?  We have lots of items in the Add a Little Dazzle Boutique that will make your holiday gift giving creations a breeze.
The amazing thing is that with some Add a Little Dazzle Craft Metal Sheets and some of our stencils, embossing folders, paper collection, dies, adhesives, and more you can whip out projects easily and effortlessly looking like you spent lots of time on them.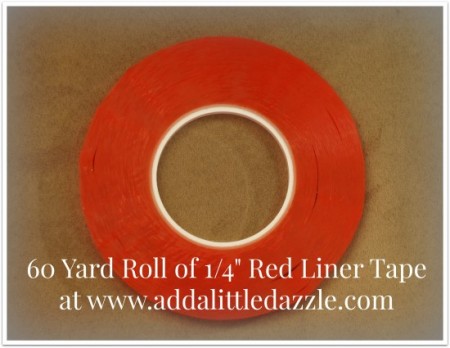 Must Have
Right now we are all busy running around. The worst thing that can happen is to run out of adhesive.  We have the solution for you. We have a 60 yard roll of 1/4″ Red Liner Tape for ONLY $14.99 a roll. That's right!!! That's an amazing price and no need to fight the crowds.
Better news is we have SAME DAY SHIPING VIA PRIORITY MAIL.  You are guaranteed to receive your Red Liner Tape in a matter of 2-3 days. LIMITED SUPPLY is on hand right now. Once we sell out of our stock, we will not have anymore until after the holidays.
ORDER YOUR RED LINER TAPE NOW!!! LIMITED SUPPLY AVAILABLE!!!
SHOP OUR HOLIDAY ITEMS TODAY!
Dazzling Diva Challenge #55 Winner –Tenia
Enter Challenge #56 Below!